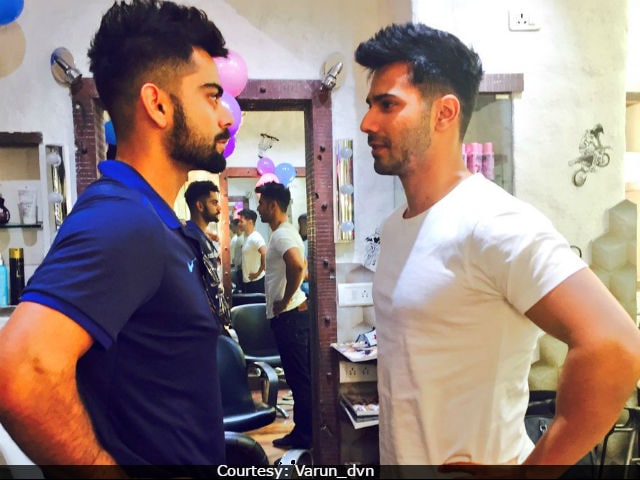 Highlights
Badrinath Bansal is Virat Kohli's fan
Varun aka Badri doesn't have brains but has a heart
Badrinath is weak in mathematics
New Delhi:
Actor Varun Dhawan, who will be seen as the eponymous
Badrinath Bansal in upcoming film Badrinath Ki Dulhania
is, at heart, a sterling groom - only the woman he wants to make his
dulhania
just doesn't get this. Badrinath has found his suitable girl in Vaidehi Trivedi, played by actress Alia Bhatt, but she refuses to consider him a possible suitable boy. But why? Badrinath is loving and caring (also hilarious) and we'd like to know more about him. We already know that, just as he is of her character on screen,
Varun Dhawan is "protective" of Alia Bhatt IRL
- he revealed this on
Koffee With Karan
.
Varun and Alia
debuted together in
Student Of The Year
and also co-starred in
Humpty Sharma Ki Dulhania
, the precursor to
Badrinath Ki Dulhania
.
Wanna know more about Badrinath? Here you go.
Five things we know about Varun Dhawan's Badrinath Bansal:
'Badrinath Is Only Virat Kohli's Fan'
In case you didn't know, Badrinath is a big fan of cricketer Virat Kohli. In a tweet, Varun revealed his fondness for Virat. He wrote, "Badri is only @imVkohli fan. Thank you virat for being so cool and humble we all have a lot to learn from u #realhero." (sic)
Here's Varun's post:
Badrinath Bansal Is Defeated By Compound Interest
Badrinath is
kaccha
in math. His early overtures to Vaidehi are rejected forthwith - she can calculate simple and compound interest, he can't. He does eventually wrestle with and learn the formula for simple interest - but compound interest defeats him. Poor Badrinath.
Watch the trailer of Badrinath Ki Dulhania here:
Badrinath Bansal Doesn't Have A Brain, But Has A Heart
During the launch of the trailer of
Badrinath Ki Dulhania
,
Varun Dhawan said that at one point of time, he was like his character Badrinath
. He told news agency IANS, "Badrinath doesn't have a brain, but he has a heart. I was like that probably when I was in college." A heart which beats only for Vaidehi.
BADRI. Characters are created from the heart not the mind pic.twitter.com/pzR4K9QPb0

— Varun Badri Dhawan (@Varun_dvn) February 19, 2017
Badrinath Is Very Expressive When It Comes To Women
Badrinath is naive but nobody can accuse him of being reticent. He has no problem approaching women - and, indeed, annoys Vaidehi by skipping the preliminaries and 'taking
rishta
' to her house in the time-honoured Indian fashion. In an interview to
Indian Express
, Varun said that Badrinath Bansal is very expressive and smart. "Badri will create a scene if he has to. So to become Badri for the film, I had to break a lot of personal barriers. I just cannot talk to girls the way Badri does," he said.
Badrinath Loves Sanjay Dutt
Varun Dhawan had earlier said that he used to go to theatres to see Sanjay Dutt and Salman Khan dance on screen and related how he used to cheer while watching them. And in
Badrinath Ki Dulhania
, Badrinath Bansal got a chance to relive those moments again through the song
Tamma Tamma
. The song is a remixed version of the Nineties hit from
Thanedaar
, featuring Madhuri Dixit and Sanjay Dutt.
In the song, Badri and Vaidehi are seen in a club, where
Tamma Tamma
is played (remixed version) and the DJ announces, "Relive the 90s." An excited Varun and Alia instantly start grooving to the tunes of the song.
Watch Tamma Tamma Again here:
Badrinath Ki Dulhania
, which Varun Dhawan and Alia Bhatt are busily promoting, releases on March 10. The film is directed by Shashank Khaitan and also stars Gauahar Khan, Shweta Basu Prasad and Mohit Marwah.