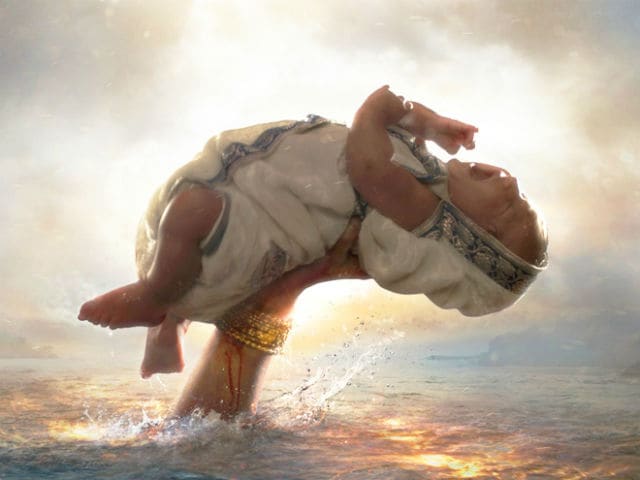 Highlights
Ramya portrays the role of Sivagami in Baahubali
"Expect lots of drama between Devasena and Sivagami characters in part 2"
Ramya is best known for playing Neelambari, in a Rajinikanth film
Chennai:
When
Baahubali: The Conclusion
releases on April 28, audiences will finally learn why Katappa killed Baahubali. But another important revelation will be the equation between queen Sivagami and princess Devasena. After the release of
Baahubali: The Beginning
,
Sivagami became a household name thanks to her character's regal bearing
, dynamic qualities and the mystery surrounding her actions. She is perhaps one of the few screen characters in the country, to get a book,
The Rise of Sivagami
, published about her back-story. In a chat with her, we learn how actor Ramya Krishnan turned into Sivagami for the screen, conquering some of her fears in the process.
Sivagami Trumps Neelambari?
Ramya agrees that the second part will have a lot more drama, "The first part, was only an introduction to the various characters. There were no scenes between Devasena aka Anushka Shetty and myself. Now, in part 2, you will see the actual story unfolding. So you can expect lots of drama between Devasena and myself." The actor who has been part of the Southern film industry for decades, is remembered to this day for playing the villainous Neelambari, in a Rajinikanth film. Has the popularity of Sivagami replaced the memory of Neelambari in the viewer's minds? She laughs, "I've done films in several languages, including Hindi. But nothing prepared me for the kind of recognition I've received after playing Sivagami. Wherever I travel, be it abroad or in Northern India, unknown people come up to me, recognizing me as Sivagami!
Baahubali
has broken all geographical barriers, and I'm totally overwhelmed by the audience response!" How did she get into the skin of a character that has become so popular? "I attribute it all to director SS Rajamouli. The way he narrated the story and my role literally gave me goosebumps. I began feeling I was indeed queen Sivagami. You know, normally I fall asleep during story narrations. But for the very first time, when Rajamouli narrated this story to me, I didn't even blink for 2 hours. Every shot, every scene of his description is so clear cut, it's like watching a video. When a director's vision is so enthralling, it's easy to slip into the skin of the character. I didn't have to do any preparation. As I listened to him, I couldn't see anyone else in that role, except myself. I transformed into Sivagami." The grand sets, the detailing of the beautiful regal costumes further helped, "Once I wore those clothes and jewellery, my whole body language changed into that of a queen."
I Could Not Show What I Was Feeling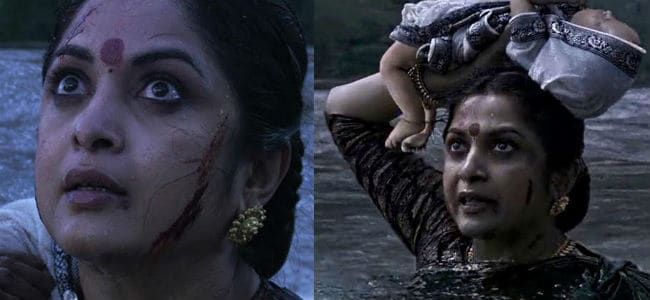 One of the most iconic scenes of
Baahubali: The Beginning
was that of Sivagami's hand, raised above swirling waters, holding up a baby. For Ramya it was the most challenging part of the shoot. She explains why, "We shot that scene for an entire week in Kerala under the famous Challakudy waterfalls. The currents are very strong there. I had to walk into the river and become submerged under those swirling waters and raise my hand out of the water. The currents underwater, were pulling me in various directions. I was extremely scared. But director Rajamouli told me, 'I never see any fear in Sivagami's face. No matter what happens, she's always calm.' Those words became my guiding light. So, though I was terrified under the strong undercurrents below, when I came above water for the shot, my face reflected complete serenity and fearlessness. I could not show anything of what I was actually feeling. That was one of the most challenging parts of the shoot for me."
Though there will be probably be a face-off between her and Anushka Shetty on screen, she is all praise for her co-star, "With her, what you see is what you get. She is one of the most uncomplicated, hardworking and nice people in the film industry. It's very hard to come across people like that. In fact the whole cast and crew exuded so much warmth and positivity. Now that the film is over and about to release I feel excited but also sad. For 5 years,
Baahubali
was a part of our lives and I used to look forward to the shoot. Now, when I think its not going to happen anymore, I am already missing it."
(Except for the headline, this story has not been edited by NDTV staff and is published from a syndicated feed.)