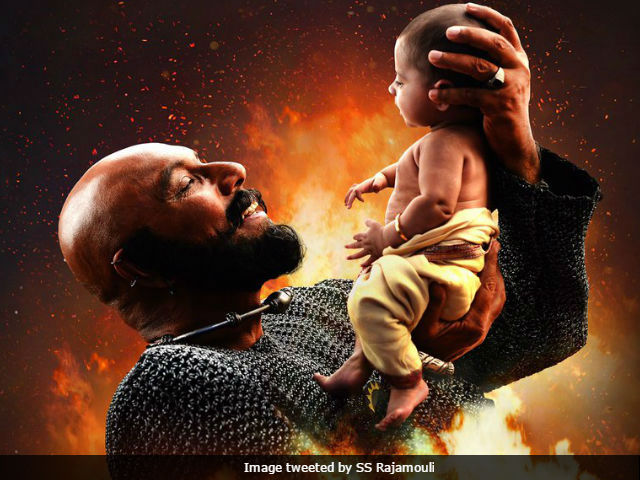 Highlights
Pro-Kannada outfits threated stop the release of Baahubali 2
"I'm sorry if my words hurt you," Sathyaraj said
Sathyaraj said that his words should not "affect the film"
New Delhi:
Baahubali 2
actor Sathyaraj has apologized for comments he made on the Cauvery river row several years ago, over which
pro-Kannada organizations have called for a ban
of the film in Karnataka. "I'm not against Kannadigas. I'm sorry if my words hurt you. I'm a small player in
Baahubali
, my words shouldn't affect the film," Sathyaraj said in a video message in Chennai on Friday. The actor plays the pivotal role of Katappa in the
Baahubali
universe, who killed the central character in the first film, 2015's
Baahubali: The Beginning
, ending it in the cliffhanger of cliffhangers.
Baahubali: The Conclusion
, scheduled to open next week, is expected to reveal why Katappa killed Baahubali, played by actor Prabhas.
However,
Sathyaraj added that he will continue to speak for Tamil rights
and said that producers should not cast him if they are worried about finances. "I clearly state that even in future, I will continue to support Tamil people, Cauvery conflict and the farmer issue. I will raise my voice for it and for anything that involves welfare of Tamil people. If producers feel that in future there will be a problem in casting Sathyaraj in their film, don't cast me in those films and incur losses. Don't cast such an ordinary actor like me in future, it is my sincere request, and incur losses. More than being an actor or dying as an actor, I am very happy to live and die as Tamilian," Sathyararaj said.
Watch Sathyaraj's full statement:
Pro-Kannada organizations have
threatened to prevent the film, easily one of this year's biggest, from releasing
in Karnataka. There has been widespread criticism of the protests given that Sathyaraj's comments date from almost a decade ago, much before the first part of director S S Rajamouli's magnum opus released in 2015. On Thursday, one of the voices against Sathyaraj told news agency PTI that the protests would continue unless the actor apologised and called for a bandh in Bengaluru on the day Baahubali: The Conclusion is to release. "We are not against the film or Rajamouli. Until Sathyaraj tenders unconditional apology, our protest will continue. There will be a Bengaluru bandh on April 28 and also there will be protests across the state. We can't accept anything else other than apology by Sathyaraj," Vatal Nagaraj, president of Kannada Chalavali Vatal, told PTI. Asked why Sathyaraj's previous films had not been opposed, he said that they were waiting for the "right time" to protest.
Cauvery is an emotional issue in Tamil Nadu. Farmers and politicians allege that despite a clear verdict by the Cauvery tribunal on sharing of water during the deficit season, Karnataka often does not share available waters for irrigation with Tamil Nadu citing drinking water requirements for people in the state.
Earlier this week,
Baahubali
director Rajamouli tweeted a video message entreating protestors to allow the film to release unopposed. "
Sathyaraj sir is not the producer or director of the film
. He is one among the many artists who have worked in the film. If this movie doesn't release as planned in Karnataka, he has nothing to lose. It's unfair to target the film because of some comments he had made," he said.
Baahubali: The Conclusion
is the second part of S S Rajamouli's VFX-intensive fantasy and also stars Rana Daggubati, Ramya Krishnan, Anushka Shetty and Tamannaah Bhatia. It will release in Telugu, Tamil and Hindi.
(With PTI inputs)