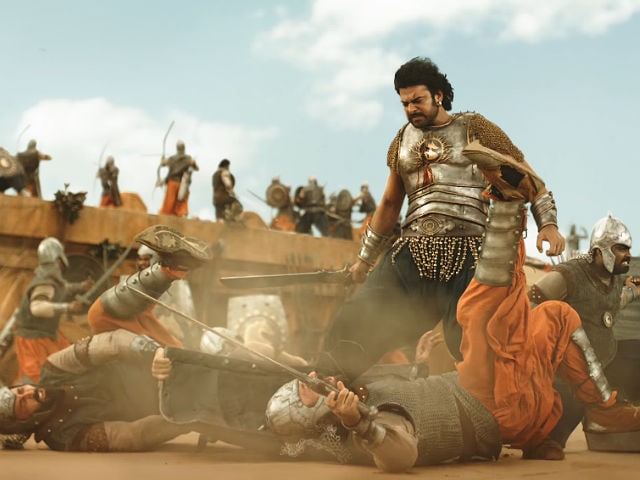 Highlights
Audience realized in the climax that they were watching the second half
Baahubali: The Conclusion has released in triumph across the country
Baahubali 2 is being shown across 8,000 screens in total
New Delhi:
Amidst the stories of Baahubali 2 frenzy - of fans camping out early morning, half holidays to watch the film, and milk baths for posters - here's a tragicomic tale from Bengaluru.
Baahubali: The Conclusion officially released today
but there were a handful of paid previews last evening, as is accepted practice, at cinemas in the south (all screenings of the Hindi version of the film were cancelled after actor Vinod Khanna's death). Tickets to these paid previews were dear and hard-to-get, which must have only helped raise tempers at the screening of the film in PVR Arena Mall in Bengaluru where the second half of the film was erroneously played first. The audience realized only in the climax that they were watching the post-intermission half first and, rightly upset, forced the theatre to play it all over again, from the beginning.
As one viewer put it on Twitter:
@Iamtssudhir I was there in the show.. Thought "if u have this much great war sequence in First half how it is going to be in second.."..

— . (@ks_sathis) April 28, 2017
This oopsie notwithstanding, Baahubali: The Conclusion has released in triumph across the country after a week of snaking ticket counter queues and crashed booking web sites. The film had a delayed release in Tamil Nadu, where early morning shows were cancelled over unpaid distributing dues. This has now been resolved and the film opened in 650 screens across the state at 11 am.
Baahubali: The Conclusion is being shown across 8,000 screens in total - a record number that outstrips even the biggest Bollywood blockbuster.
Baahubali: The Conclusion is the second of director S S Rajamouli's two-part graphics-intensive fantasy. It stars actors Prabhas and Rana Daggubati as Baahubali and Bhallala Deva, Sathyaraj and Ramya Krishnan in the pivotal roles of Katappa and Sivagami, and actresses Anushka Shetty and Tamannaah Bhatia.
There is talk of the film making Rs 100 crore on its first day - double that of Baahubali: The Beginning, which released in 2015.