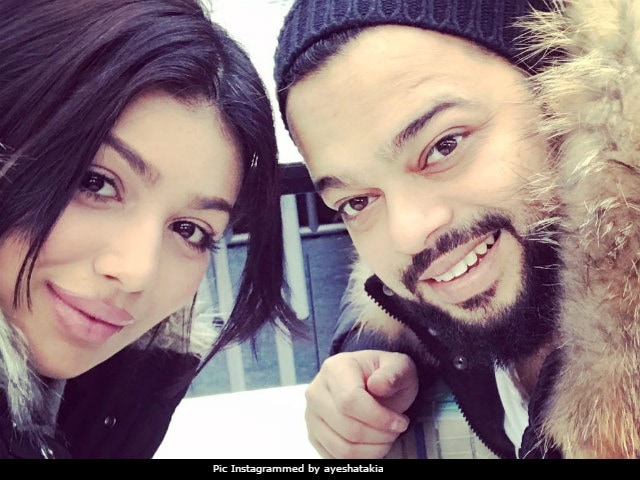 Highlights
Farhan Azmi filed a complaint with the police on July 26
He said he was threatened for marrying a 'Hindu girl'
Ayesha Takia and Farhan Azmi are parents to a son
New Delhi:
Ayesha Takia
's husband Farhan Azmi filed a complaint with the Mumbai Police on July 26 for having received death threats from a political outfit over a phone call earlier this month, reported
Spotboye
. The hotelier is the son of Samajwadi Party leader Abu Azmi, who has featured in headlines for making several controversial statements. Farhan Azmi's complaint states the political party titled Hindu Sena, which operates out of Rajasthan, threatened him for allegedly having indulged in "love jihad". "You all are animals. Have you forgotten that you have indulged in Love Jihad by marrying a Hindu girl?" the unidentified caller reportedly told the actress' husband, stated
Spotboye
. Ayesha Takia has been married to Farhan Azmi since 2009 and the couple are parents to a son named Mikail.
"The aggressor, in no uncertain terms, extended death threats to the undersigned and his family..." read the report, a copy of which have been shared by
Spotboye
.
According to the complaint, the threat call on behalf of the Rajasthan Hindu Sena was primarily targeted at Ayesha's politician father-in-law - the political outfit is reportedly offended by Abu Azmi's comments about singer
Suchitra Krishnamoorthi's stance on azaan
or the morning call to prayer. The singer was recently attacked on Twitter in abusive words for her tweets on
azaan
. Later, the senior politician told a
news channel
that only those who attempt to taint the culture of India, protest against the holy morning call to prayer.
"Ask your father Abu Azmi to stop shouting like an animal else he will be bumped off. Also tell the son of Owaisi that he too will not be spared," Farhan Azmi was reportedly told, said
Spotboye
.
Ayesha Takia has been known to publicly
distance herself from the controversial remarks made by her father-in-law
. Earlier this year, she told
mid-day
that it's okay to have a 'difference in mind-set': "When people are in the public eye, they are questioned for their choice of words. A difference in mind-set and generation gap is the issue. There is a difference of opinion (between me and my father-in-law), which is fine. As a celebrity, I take it in my stride that I am expected to harbour an opinion even on something I didn't say,"
mid-day
quoted her as saying.
In 2014, Ayesha Takia reacted with strongly-worded tweets to Mr Azmi's suggestion that women having sex should be hanged to death. Later that year, Abu Azmi also appeared to say that women who are raped should be punished - a statement which he later attempted to clarify.
if wot im reading about my father in laws statements r true then me and Farhan are deeply embarrassed n ashamed...

— Ayesha Takia Azmi (@Ayeshatakia) April 11, 2014
We surely do nottt share this mindset...its disrespectful to women.if these statements r true then its sad.

— Ayesha Takia Azmi (@Ayeshatakia) April 11, 2014
Ayesha Takia was last seen in Amit Mishra's single
Zindagi Tujhse Kya Karen Shikvey
. She is best known for films like
Dor, Dil Maange Mor, Socha Na Tha
and
Home Delivery
.