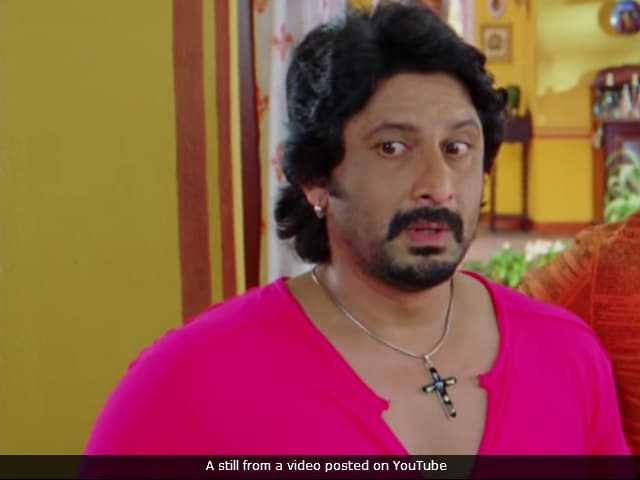 Highlights
Arshad Warsi will feature in Golmaal Again
Arshad said, "We have new jokes and skits in the film"
Arshad said, "I don't get bored while filming Golmaal Again"
New Delhi:
Actor Arshad Warsi, who has been featuring in Rohit Shetty's
Golmaal
series of films, will be seen
reprising his role in Golmaal Again.
Arshad shared his experience of filming the new
Golmaal
movie and revealed that fans can expect a newer and fresher version of the previous movies. Mr Warsi also added that there's no time to get bored while filming
Golmaal Again
. "I don't feel fatigued because our roles are really interesting. Had they been boring I would have been fed up. Here (referring to
Golmaal Again
), there's no space to feel like that. This time too we have new jokes and skits," the actor told news agency PTI.
Arshad, who was last seen in Aparnaa Singh's
Irada
, believes artistes do not try their hands at something new because they are scared of failure, reports PTI. Arshad said, "I think the fear of failure is what makes us stick to mediocrity which is sad. Fortunately, I don't have a problem in doing any kind of films, be it serious one or a comedy." Arshad also added, "From a weird character like Babban in
Ishqiya
or SSP Ajay Kumar from
Seher
, it's quite varied," stated PTI.
The 49-year-old actor also shared his one criterion for coming on board a movie: "There are
Golmaal
s and
Dhamaal
s too. So, it doesn't matter to me. I just do a story if I feel, it will be fun to do and watch. I have never bothered about sticking to an image or breaking out of a mould," he told PTI.
Arshad, who played the
role of Circuit in Munna Bhai MBBS
, believes once a character becomes popular, directors should not make any significant changes in it. He said, "It's like me trying to do
Circuit from Munna Bhai MBBS in another way
. It's a bad idea," reports PTI.
Arshad Warsi is currently filming Sourabh Shrivastava's
Fraud Saiyyan
and Rohit Shetty's
Golmaal Again
, co-starring Ajay Devgn and Parineeti Chopra.
Golmaal Again
is expected to hit the screens around Diwali.
(With PTI inputs)