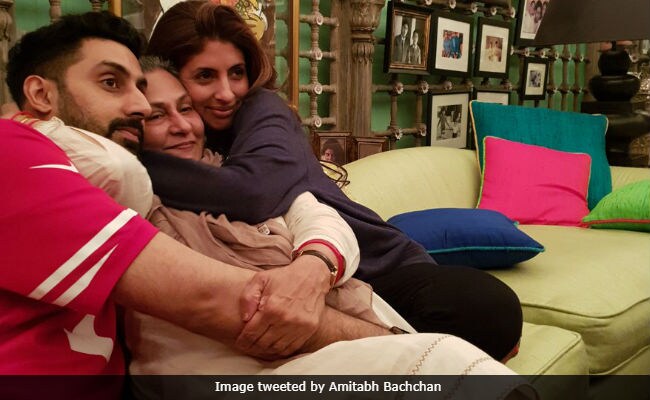 Highlights
Jaya Bachchan celebrated her 70th birthday at her home in Mumbai
"She be with her 'progress report'," wrote Amitabh Bachchan
No photos of Aishwarya, Aaradhya, Navya and Agastya are available yet
New Delhi:
Amitabh Bachchan has a treasure trove of throwback pictures, one of which he shared on Twitter along with a picture taken on Jaya Bachchan's birthday on Monday to highlight her "progress report." The 'progress report,' which Big B mentioned here and on his blog on Monday (more about that later) are their two children Shweta and Abhishek. Mr Bachchan shared a black and white photo of himself and Jaya Bachchan beaming with joy with one of their two children in her arms. In the juxtaposed photo, Jaya Bachchan was sandwiched between Abhishek and Shweta. From the few pictures available on the Internet, it is apparent that the Bachchans had a blast celebrating
Jaya Bachchan's 70th birthday with a cozy family-only get-together
.
T 2769 - The 'progress report' then .. and now .. pic.twitter.com/0wSS85sS96

— Amitabh Bachchan (@SrBachchan) April 9, 2018
Abhishek also shared a photo of himself with the "birthday girl" on Tuesday.
Here's what Mr Bachchan wrote about the 'progress report' and the birthday celebrations on his blog: "At the stroke of the midnight hour the greetings and wishes and calls and the feeding of sweetmeats; the gifting of love and togetherness and the welcoming of the lady on her 70th... She be wife and Mother and she be with her 'progress report'."
"Feelings and love delivered... writings of occasion hand written on card... the gratitude of the special day and spending the time with all about, reminiscing... Quiet... still and intimate... the best way to bring in a remembrance and the passage of time over the year gone by," he added.
As of now, pictures of Abhishek's wife Aishwarya Rai Bachchan and their daughter Aaradhya have not reached the internet. Photos of Shweta's children Navya Naveli and Agastya from last night's celebration are not available either.