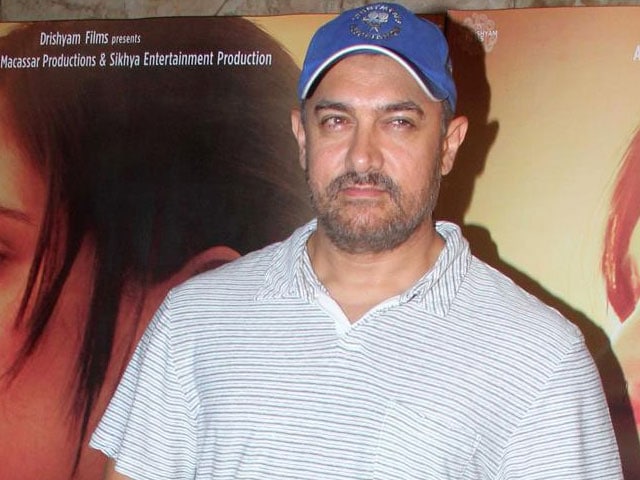 New Delhi:
Actor Aamir Khan's face is literally mud in the first look of new film
Dangal
he tweeted on Monday and while it didn't send the nation reeling as his first poster of
PK
did, it did have social media sniggering. Since Twitter finds anything Aamir hard to resist these days, cue the jokes. (Also Read -
First Look: A Very Muddy Aamir Khan in Dangal
)
As you cannot possibly fail to know by now, 50-year-old Aamir now weighs 95 kilos and is playing wrestler Mahavir Phogat, which explains the mud (or does it?) (Also Read:
Aamir Khan's 95 Dangal Kilos Are Giving Him Real Trouble
)
Twitter quips included this one from comedian Kanan Gill:
Guys I think Aamir Khan's face is in my chocolate ice cream pic.twitter.com/Ll5c7VQ3cC

— Kanan Gill (@KananGill) September 21, 2015
Do you still want that ice cream then? More jokes:
Brief : 'We need a groundbreaking poster for Dangal' pic.twitter.com/v4LYMFLisb

— Asst. Director (@Bollywood_AD) September 21, 2015
#Dangal looks like the story of every Indian road after it has rained for 30 mins.

— Raj Shekhar (@spud_31) September 22, 2015
No make up, just put Multani mitti.. Aankh aur naak khul jaaeye.. #dangal@aamir_khanpic.twitter.com/pzpo03wrFM

— tuhin (@rjtuhin) September 22, 2015
Pic 1 - "Ok am going in" Pic 2 - " Am in" #Dangalpic.twitter.com/8Pkp2jqomH

— PJ (@PJ_CRACKER) September 21, 2015
Several references were made to Aamir's weepiness while watching films (other people's):
#Dangal it is the movie in which instead of aamir khan everyone else gonna cry

— Ishan (@iamishansinghal) September 22, 2015
Most amazing part about 'Dangal' poster is that Aamir is not crying in it! pic.twitter.com/Paf5wBiQTw

— Keh Ke Peheno (@coolfunnytshirt) September 21, 2015
Don't be so sure about that:
Just made it more realistic now pic.twitter.com/YuhRmD4tZ5

— PJ (@PJ_CRACKER) September 21, 2015
I wonder if Aamir Khan cried when he read all those jokes on the Dangal poster

— Gobblefunking (@gobblefunk_) September 22, 2015
We believe we might be able to help with the above question. In an interview to
Hindustan Times
last week, Aamir said, "I read all the jokes. I was reading them and laughing. I don't remember the jokes now, but there were some really good ones. I quite enjoyed all the attention." (Also Read:
Aamir Khan Explains His Katti Batti Tears, Bajrangi Bhaijaan Towel
)
He meant the jibes about the bucketfuls he wept while watching Salman Khan's
Bajrangi Bhaijaan
and his nephew Imran Khan's new film
Katti Batti
. (Also Read:
Aamir Khan Cried and Cried in Katti Batti. Twitter Found This Hilarious
)
Jokes apart,
Dangal
is now filming in Ludhiana and will release next year. It will be Aamir's first film since 2014's blockbuster
PK
.