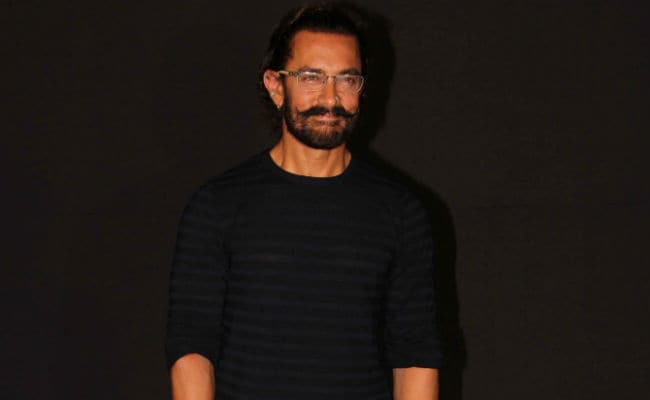 Highlights
"I actually don't fear losing stardom," said Aamir
Can never claim that a film became a hit because of me: Aamir
Aamir is currently promoting Secret Superstar
New Delhi:
Superstar
Aamir Khan, who will soon complete three decades in the industry
, isn't bothered about 'losing stardom' as he very well knows that it'll happen one day, reports news agency PTI. "It's not 'whether it will happen', it's 'when it'll happen'?" he says. "I actually don't fear that (losing stardom). I am very clear that I am going to lose it all. I have no doubt in my mind that there will be a day when I will not have all this. So why fear? Death is going to come to all of us. Even creativity goes to a sustenance period and finally it gets destroyed. It's a natural process of Brahma, Vishnu, Mahesh. Everything which exists will get destroyed. I will lose all of this, definitely," Aamir, 52, said.
Aamir's last film Dangal was huge blockbuster
at the box office and also fetched good results in China and Hong Kong. In the last few years, he headlined projects like
3 Idiots, PK
and
Dhoom 3
and all of them set box office records globally. Of his stardom, Aamir told PTI, "Stars are made through films. It isn't the other way around. I can never claim that a film became a hit because of me. If you look at
PK, Dangal, 3 Idiots
, as a star the maximum I can do is bring in the first weekend. As an actor, I am contributing in creative aspect." He added that the credit for the success of all these films go to the directors and the writers.
His only fear, he says is whether he's handling the process of filmmaking rightly or not. Aamir launched his production company Aamir Khan Productions in 2001 and produced
Lagaan
in the same year. The film was selected as India's official entry to the 74th Academy Awards in the Best Foreign Language Film category. "I fear what we have set out to make, can we achieve it fully? The process of filmmaking is so complex, that if you go wrong even in one step, your film won't be what you set out to make. What we are trying to achieve have we achieved it? My biggest fear is that. We shouldn't go wrong there. Will I lose my creativity? For sure I will. Will I lose my fame? Hundred per cent I will. There's no question about it. It's a matter of time," he told PTI.
Taare Zameen Par, Jaane Tu... Ya Jaane Na
and
Dhobi Ghat
are some of the other films produced by Aamir Khan Productions.
Of his choice of films, Aamir said, "It is my good fortune to be a part of these films. Imagine if I didn't have
Taare Zameen Par, Lagaan
or
3 Idiots
where would I be? My career is built on these films. The choice is mine, I chose well, but I shouldn't be credited so much for that."
Aamir Khan is currently promoting
Secret Superstar
, a film produced by him and directed by Advait Chandan.
Secret Superstar
is headlined by Aamir's
Dangal
co-star Zaira Wasim and the actor features in a special role. The film released on October 20. Meanwhile, Aamir's next film is
Thugs Of Hindostan
, also starring Amitabh Bachchan.
(With PTI inputs)