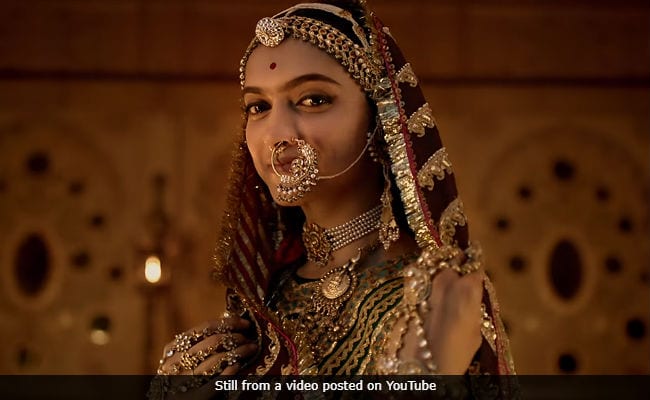 Highlights
Censor Board refused to review Padmavati due to incomplete paperwork
Padmavati was scheduled to release on December 1
Death threats were issued for Deepika and Mr Bhansali
New Delhi:
Sanjay Leela Bhansali's
Padmavati
could have been on the list of Bollywood's top films in 2017 instead, the film, marred by protests and opposition, now has a list of what celebrities had to say about its controversies. The trouble for
Padmavati
started in early 2017 when director Bhansali was attacked by the members of Rajput Karni Sena, who alleged that Mr Bhanali's film has historical inaccuracies. In Jaipur, the sets were vandalized and Mr Bhansali was slapped for allegedly portraying a romantic sequence between Queen Padmavati (Deepika Padukone) and Alaudin Khiji (Ranveer Singh), who invaded the fort of Chittor to capture Padmini, who in turn performed
jauhar
(mass self-immolation). The filmmaker and his team made it absolutely clear that there is no such sequence in the film where Deepika and Ranveer appear in the same frame.
It seemed like the trouble had ended there but a few months later, the film sets (this time near Film City in Mumbai) were vandalized again. The force against
Padmavati
came with full thrust after the first poster of
Padmavati
was released on social media. As the filmmakers released the promotional material of
Padmavati
on social media, the fringe outfits accelerated their protests.
After weeks of protests, allegations and counter-allegations the film's release was deferred.
Padmavati
, which was supposed to hit the screens on December 1, will now release in 2018, because the Central Board Of Film Certification refused to review to on the grounds of incomplete paperwork. While the controversy was at its peak several celebrities spoke in favour of Deepika Padukone and Sanjay Leela Bhansali, who has also been issued death threats. Here's a list of 10
things celebs said on Padmavati
.
#1 Deepika Padukone
: "It's appalling, it's absolutely appalling. What have we gotten ourselves into? And where have we reached as a nation?
We have regressed
."
Deepika Padukone was trolled brutally after this statement. Also, after this statement, the Karni Sena threatened to chop off her nose.
#2 Shahid Kapoor
: "Watch the film and then decide. Give the film a chance and
don't form preconceived notions
. We have tried to keep everyone's feelings and interests in mind. We have tried to make film as best as we could. We will respect whatever people think of the film but you should see it first."
#3 Aamir Khan
: "I feel that
everybody has a right to protest.
But I think in a democracy and in a country where we believe in the rule of law, I don't think anyone should be threatening people with violence. That is most unfortunate. As an Indian, it makes me sad. It is not just restricted to a film personality, it could be anyone. The rule of law should be upheld and no one should be above the law and no one should take violence in their hands."
#4 Kangana Ranaut
: "You want to attack an individual or chauvinism, patriarchy or our orthodox thinking? We should attack these things... We have to attack the mindset, and we will do that and we are doing it whether it is through our work, speech or our films. Whatever is happening around us, we all need to stick together. Whether individually or together if we can do (anything) to support our colleagues, we should. Our full support is with our colleagues."
#5 Salman Khan
: "I don't think it is fair to hurt anyone's sentiments. It is also not fair to comment on a film without seeing it."
#6 Kamal Haasan
: "I want Ms Deepika's head saved. Respect it more than her body, even more her freedom. Do not deny her that. Many communities have opposed my films. Extremism in any debate is deplorable. Wake up cerebral India. Time to think. We've said enough. Listen Ma Bharat"
I wantMs.Deepika's head.. saved. Respect it more than her body.Even more her freedom. Do not deny her that.Many communities have apposed my films.Extremism in any debate is deplorable. Wake up cerebral India.Time to think. We've said enough. Listen Ma Bharat

— Kamal Haasan (@ikamalhaasan) November 20, 2017
#7 Karan Johar
: "I have faced a lot of controversies before the release of a film. I feel bad for a filmmaker, who is one of the best in the country. Sanjay Leela Bhansali has made a beautiful film and I hope he is protected by the people who understand that creativity is a form of expression. I think we should trust and believe him and give this film all the love."
#8 Swara Bhaskar
: "It's a case of a controversy which has been constructed and allowed to fester to take this really bizarre dimension. We are reaching a point where the reactions - forget about the film - coming out the leaders, political parties and even the courts is telling where we are headed as a polity and a country. How is it that leaders of the political parties are announcing bounties and threatening murders on news channels? It is the right of an artiste and a director to take creative liberty on the subject they are making. You can discuss it, you can debate it - I'm okay with people within their democratic space in a non-violent, lawful way protesting."
#9 Farhan Akhtar
: "Banning a film is the answer that any kind of civilized, democratic society should let happen. I feel that unfortunately the audience does not give itself credit and realise the power they have to not go and watch the film. I think it's unfair to impress your view of not wanting to watch a film on somebody else... an especially through the means of violence. People have been making threats on national television and very little action has been taken against it. It's not a very healthy sign."
#10 Richa Chadha
: It's a shame for democracy because on the one hand they are talking about upholding a woman's honour while on the other they want to dishounour a woman by beheading her or chopping off her nose. This is not something which should be encouraged. There are peaceful ways to protest. If you have a problem with a film or its content, so you should go to the court and the CBFC is the final authority in certifying a film. Violent threats are very unbecoming of a democracy and doesn't reflect well on our culture.