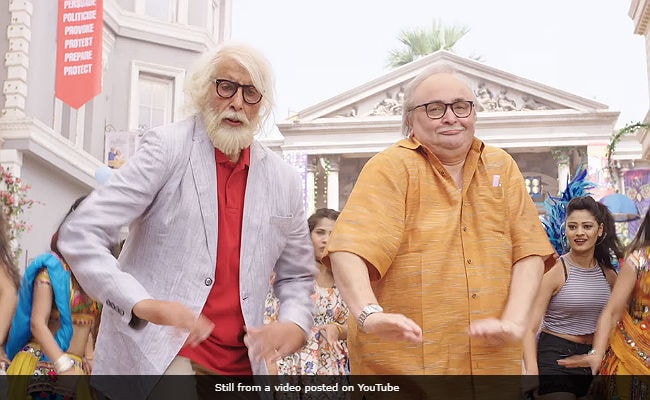 Cast: Amitabh Bachchan, Rishi Kapoor, Jimit Trivedi
Director: Umesh Shukla
Rating: 2 Stars (out of 5)

A dramedy that delivers a worn-out social message as it trundles along on the back of the antics of an odd father-son pair with divergent approaches to life, Umesh Shukla's 102 Not Out has moments that strike a chord. But these are too few and far between to make this Amitabh Bachchan-Rishi Kapoor starrer an unforgettable cinematic outing. This is patchy fare that is only mildly diverting despite the best efforts of two veteran actors at the top of their game.

Based on a Gujarati play of the same name by Saumya Joshi, who has also penned the screenplay and dialogues, 102 Not Out offers a variation on the Anand dictum - "zindagi badi honi chahiye lambi nahi (life should be big, not long) - by putting both the human desire for longevity and the need for quality at the heart of a narrative that starts off as comedy and winds up as melodrama. In the bargain, the film falls between two stools.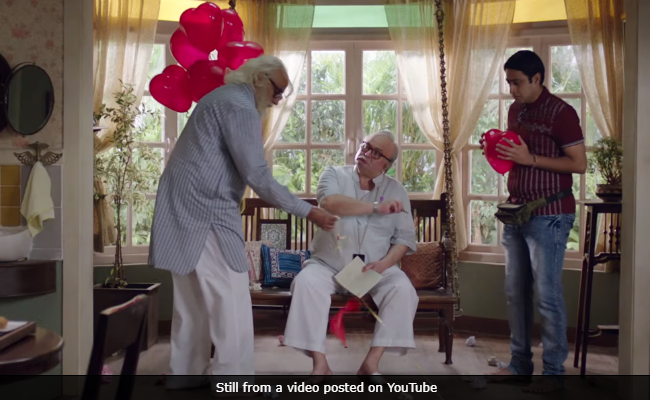 Some of the comedy bits are just about passable, but the climactic detour into heavy-duty mush robs the film of an appreciable degree of vitality. As a long-suppressed secret - it centres on a pampered boy who left home 21 years ago never to return - places severe strain on the relationship between a wizened father and his septuagenarian son, the drama not only sinks into outright predictability, it begins to feel increasingly like a screechy 1980s family drama.


What could be more ludicrous than a father launching an all-out confrontation with his son? "Main tere bete ko mere bet eke saamne jeetne nahi doonga," he declares under his breath. But the big-bang climax that ultimatum promises does not quite materialize.
But with Bachchan and Kapoor putting their hearts and souls into what is essentially a two-hander that relies entirely on them,
102 Not Out
is never in any danger of sinking into the utterly gratuitous. If only its far-fetched dramatic conceits had the finesse and firmness to carry the weight of the film's well-meaning whimsicalities all the way through to the climax, it would have been far more rewarding and rounded experience.
"Main marne ke sakhth khilaaf hoon (I am dead against dying)," says 102-year-old Dattatreya Vakhariya (Bachchan) to his 75-year-old widower-son Babulal, a stickler for form and familiar routines who seems to have stopped living. "Zinda hai tab tak marna nahi," is the older man's advice.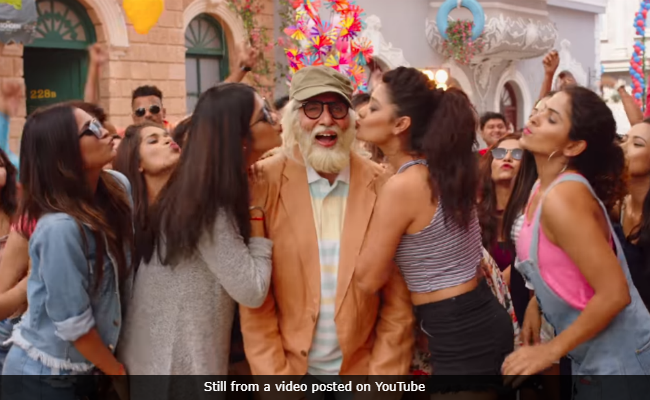 The son, "thakela, pakela (tired, bored)", lives in the past, wallowing in self-pity and trapped in dead habit. The father is the exact opposite: he lives for the moment and his sight is now set on breaking the longevity record set by a Chinese gentleman whose cutout adorns the Vakhariya's living room. "Only 16 years to go, yo," he exults.


Peeved with his son,
the lively centenarian threatens to pack Babulal off to an old age home
unless he stops being so hopelessly morose. The latter recoils in horror and accuses his dad of being ridiculously unreasonable. So Dattatreya offers to let him off the hook if he fulfils a series of pre-conditions, nay tasks aimed at helping the man regain his zest for life.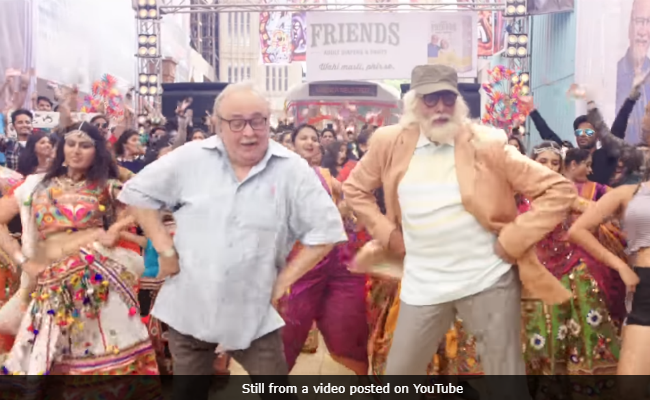 How nonplussed Babulal does that while learning a few life lessons is what the rest of the film is about. As the two men play games with each other with the help of a good-natured young medicine shop assistant Dheeru (Jimit Trivedi), details of their past tumble out and put them at variance.

At a basic level, 102 Not Out is about the simple joys of living, the sheer futility of pining for filial fealty, and the fun of going with the flow. That point of view is articulated through a bunch of old Hindi film songs that Dattatreya savours - Waqt ne kiya kya haseen sitam (Kaagaz Ke Phool), Main zindagi ka saath nibhata chala gaya (Hum Dono), Mere ghar aana zindagi (Dooriyan) and Hum thhe who thhi aur shama rangeen (Chalti Ka Naam Gaadi). The numbers composed and recorded for the film pale in comparison, emphasizing the cliche - old is gold.




That is precisely what the 75-year-old Bachchan and 65-year-old Kapoor, teaming up on the big screen for the first time since 1991's Ajooba, prove to be - and more. They are a riot. Without them,
102 Not Out
would have just been a whole lot of wearisome whining. Especially delightful is Kapoor, who makes the transition from a man burdened with too many worries to an assertive gentleman who begins to look ahead to the future with hope with the minimum of fuss. Bachchan, of course, never takes his eyes off the ball, reeling out one dexterous tic after another.
Also noteworthy is the performance from Jimit Trivedi, who holds his own with impressive composure as the two seasoned actors go all out to stamp their class on a film that fails to benefit fully from their sparkling presence.