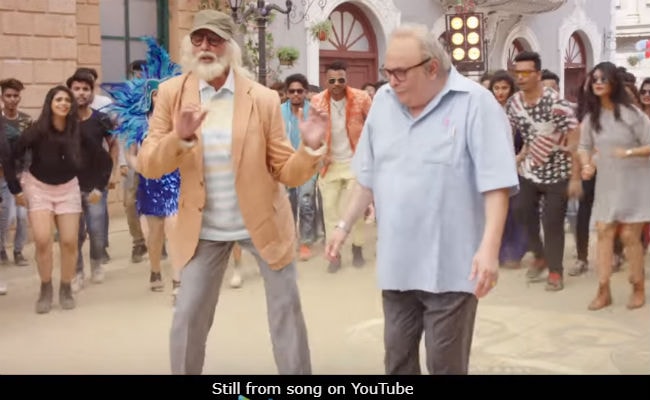 Highlights
The song has been sung by both Big B and Rishi Kapoor
Big B also raps in the song
This is the first song from the movie to have been released
New Delhi:
Amitabh Bachchan, take a bow! What dance moves, ya.
Badumbaaa
,
a new song
from Amitabh Bachchan and Rishi Kapoor's upcoming film
102 Not Out released today
and is sending fans of the actors into some sort of a meltdown. The song
Badumbaaa
has all the ingredients of a perfect entertainer - starting from a colourful set and catchy beats to quirky dance moves and hilarious lyrics. In
Badumbaaa
, Rishi Kapoor, who plays the 75-year-old son of Amitabh Bachchan's onscreen character, is taken for a ride for being the "
thakela pakela insaan
" he is. Big B prescribes the various ways Rishi Kapoor can rejuvenate his boring lifestyle and can bring some enthusiasm and colour into it.
Inspired by his evergreen father, Rishi Kapoor does try to match steps with his
102-year-old dance companion
and also offer certain advise on how to keep calm and be serious in life. But who care? Big B believes is all for
YOLO, after all
.
With lyrics by Amitabh Bhattacharya, the song has been sung by both Amitabh Bachchan and Rishi Kapoor. Watch
Badumbaaa
from
102 Not Out
here:
In an interview with IANS recently, Rishi Kapoor shared his experience of working with Big B after a gap of almost three decades and said: ""We worked in this film after 27 years but from the time we went on the set, we started rehearsing. We did not feel the gap between these years. I feel proud to say that I have been working with him for the last 44 years. Our first film was
Kabhi Kabhie
(1976) and the last time we worked together was in
Ajooba
(1991)."
Directed by Umesh Shukla,
102 Not Out
releases on May 4.