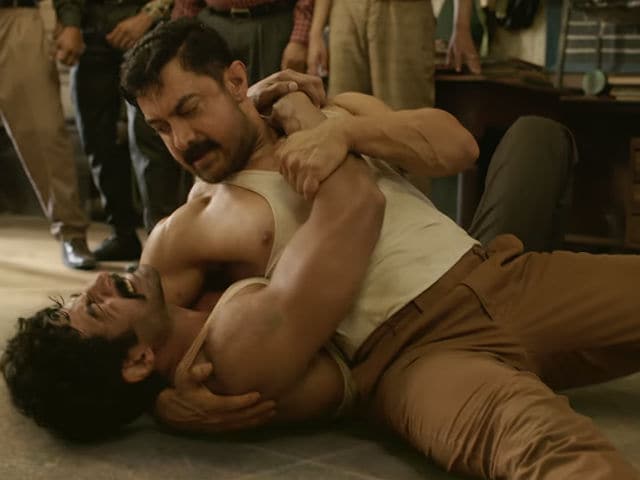 Highlights
Aamir Khan weight loss journey for Dangal is inspiring
Aamir once described his co-star Sakshi Tanwar as an 'one-take actor'
Dangal releases on December 23
New Delhi:
An Aamir Khan film, occurring as it does so relatively rarely, is almost always occasion for excitement and anticipation. So it is with
Dangal
, some 10 days from release.
Dangal
, a sports biopic, is Aamir's first film since
PK
closed 2014 in such grand style. It releases on December 23, having reserved the Christmas box office slot as Aamir films have done in the recent past (it's become a tradition of sorts, with Eid booked for a Salman Khan and Diwali for a Shah Rukh Khan movie). The bare bones of
Dangal
's story has been common knowledge ever since the film was announced - it tells the true story of how wrestler Mahavir Singh Phogat challenged patriarchal tradition in his village in Haryana and trained his two eldest daughters, Geeta and Babita, in his sport. The real Geeta and Babita Phogat won India's very first medals in female wrestling at the 2010 Commonwealth Games.
In the last few months, much more has been revealed of
Dangal
via its trailer and songs. With 10 days to go before the film releases, here are 10 things you should know about Aamir Khan's much-awaited film.
1. Aamir Khan plays Mahavir Singh Phogat and, as per his hard-earned reputation for extreme dedication to a role, gained and then lost between 25 and 30 kilos while filming. Aamir, 51, plays Mr Phogat both as a middle-aged father and as a young wrestler. To do the former, he put on weight, rejecting his director's suggestion that he wear a fat suit.
Aamir tipped the scales at 95 kilos at one point of time
and prompting concerns about his health. He admitted to having difficulty breathing and walking. After finishing his scenes as the older version of Mahavir Phogat, Aamir lost the extra weight in 5 months, working out 5 hours a day, to play him as a chiseled young wrestler. A video documenting this transformation went viral some weeks ago and Aamir's trainer dismissed rumours that they had used steroids, crediting the actor's "perseverance and sweat" instead.
Video: Watch Aamir Khan's 'fat to fit' transformation that went viral
2. Two young and unknown actresses play Aamir's
Dangal
daughters - Geeta and Babita. Sanya Malhotra and Fatima Sana Sheikh trained with Aamir Khan both in wrestling and mastering the Haryanvi dialect for their roles in the film. They filmed
Dangal
's wrestling scenes despite shoulder injuries and busted knees and have earned themselves praise of the highest sort from the senior actor. "If I have to rate our performance in the film, I would say that these kids performed ten times better than what I did. No, I am not exaggerating anything. Once the film releases, the audience will understand. I have been working in the industry for last 25 years, but these kids are highly talented," Aamir told news agency IANS last month. Sanya and Fatima have been closely involved in promoting the film and will appear on the
next episode of Koffee With Karan
with Aamir Khan.
3. The role of Mahavir Phogat's wife Daya was up for grabs when the film was announced. Several actresses are believed to have been auditioned before TV star Sakshi Tanwar was cast. Aamir Khan has described Sakshi, a one-take actor, as a 'dream' to work with. In a video posted on his Facebook account, director Nitesh Tiwari recounts how he hadn't considered Sakshi as a possible Daya Phogat until she was recommended by Aamir himself.
4. Aamir Khan reportedly
screened Dangal for South superstar Rajinikanth
recently. News agency IANS reported that he also asked Rajinikanth, 66, to dub for him in the Tamil version of the film but was rejected. "Aamir had screened the film for Rajinikanth sir and also requested him to dub for his character for the Tamil version of Dangal. Although moved by the film, Rajini sir politely turned down the offer," a source told IANS. This has not been confirmed by either Aamir or Rajinikanth.
5. The trailer of
Dangal
was released mid-October, to instant acclaim and viral fame. Online, it was described by celebrities like Alia Bhatt and Varun Dhawan as 'superb.' "Brilliance, thy name is Aamir Khan," tweeted Riteish Deshmukh. As revealed in the promo of Aamir's
Koffee With Karan
episode, the actor was moved to tears while watching the trailer.
Video: Watch the trailer of Aamir Khan's Dangal
6. The first song from the film,
Haanikaarak Bapu
, offered a deeper glimpse into the film, revealing Aamir's character as an exacting taskmaster. The real Mahavir Phogat, Aamir claims, is far more
haanikaarak
than the eay he's been played on screen.
Video: Watch Aamir Khan in Dangal song Haanikaarak Bapu
7. Last year in November, Aamir Khan was injured while filming
Dangal
in and around Ludhiana, Punjab. He was sent home to rest for a week after suffering a muscle spasm while filming a wrestling scene. In a tweet, Aamir assured concerned fans that the injury was a minor one.
Hey guys its not such a major injury. My back muscle has gone into a spasm. A week of rest and I will be back on shoot.

— Aamir Khan (@aamir_khan) November 16, 2015
8. In January, Aamir was mobbed while filming in a street in Ludhiana. Despite heavy security, he couldn't get into his vanity van and had to wait in a house nearby while the shoot wrapped and the area was cleared. Days before, he had celebrated Makar Sankranti on set in Punjab and was spotted flying a kite.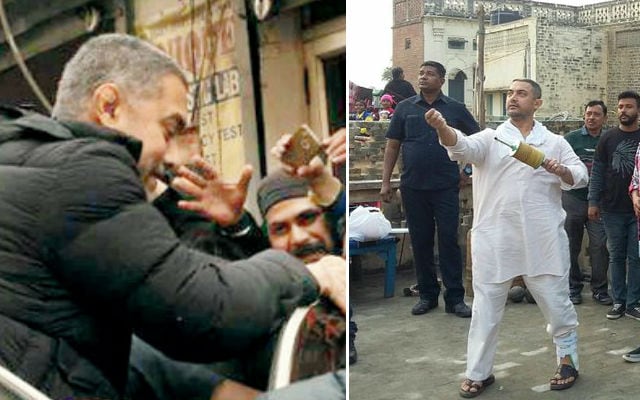 9. The first look of
Dangal
, featuring Aamir's face emerging from mud, was tweeted by the actor in September 2015.
September 21, 2015
10. Weeks ago, Aamir Khan said that the performance of Shah Rukh Khan's
Dear Zindagi
made him hopeful about that the currency ban won't affect
Dangal
's box office prospects. "I hope it (currency ban) doesn't affect our film. I think things are slowly getting back to normal. I think
Rock On 2
got affected because it had released right at that time, But I believe
Dear Zindagi
is doing quite well. Hopefully, I think it will not affect our film," he said.
We'll expect more
Dangal
details from the
Koffee With Karan
episode that's coming up and, of course, we also expect the film to close 2016 with a bang. Aamir Khan and team probably needn't worry - after
Dangal
was screened for the actor's friend in October, filmmaker Karan Johar tweeted that he hadn't "seen a better film in a decade."