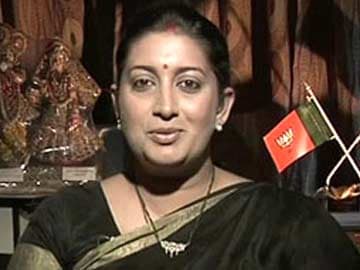 New Delhi:
The BJP is reportedly preparing to put up strong candidates against Sonia Gandhi and Rahul Gandhi, in what is seen as a tit-for-tat move with the Congress fielding heavyweights against Narendra Modi and other BJP leaders.
Actor-turned-politician Smriti Irani is emerging as the BJP's pick for Amethi in Uttar Pradesh, where Rahul Gandhi has won since 2004.
Till now, by an unspoken agreement, the BJP and Congress have never put up strong candidates against top leaders.
In a break from that tradition, however, the BJP and its ideological mentor Rashtriya Swayamsevak Sangh, or RSS, are discussing their best options for the two constituencies that have been loyal to the Gandhi family for decades.
On Thursday, BJP chief Rajnath Singh and the party's Uttar Pradesh in-charge Amit Shah met RSS leaders in Lucknow.
The leaders reportedly see Smriti Irani as a candidate who can put up a credible fight in Amethi. The 38-year-old became a household name with a popular Hindi serial that stopped airing in 2008. BJP sources say Ms Irani has little to lose as she still has four years left in the Rajya Sabha.
For Rae Bareli, Congress president Sonia Gandhi's constituency, yoga guru Baba Ramdev has suggested BJP firebrand Uma Bharti, but sources say the party has its reservations.
Ms Bharti, 54, has indicated that she is open to contesting from Amethi as her second constituency after Jhansi, from where she has been nominated.
BJP sources say the party does not want Ms Bharti to fight from two seats; it wants her to focus on Jhansi, which may impact the BJP's fortunes in the Bundelkhand region.
The BJP's "payback" was apparently driven by the Congress' decision to field Rahul Gandhi aide Madhusudhan Mistry against Narendra Modi in Vadodara. There is strong speculation that a senior leader like Digvijaya Singh will challenge Mr Modi in his other constituency, Varanasi.
The Congress has also fielded former Chief Minister Amarinder Singh in Amritsar against senior BJP leader Arun Jaitley, who is contesting his first election.