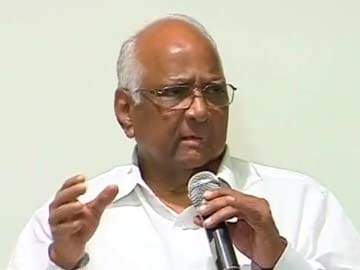 Mumbai:
Nationalist Congress Party chief Sharad Pawar today denied his party giving any ultimatum to the Congress and said the seat-sharing between the two parties will be resolved in the next 10 days.
"Seat sharing with INC to be resolved in next 10 days. Talks are on in cordial manner, Praful Patel hasn't given any ultimatum to INC," Mr Pawar tweeted today.
The 73-year-old leader also hit out at the opposition in another tweet, "Never seen such a politics of hatred in Maharashtra. Got elected 14 times in 47 years and yet my election to RS is targeted out of hatred (sic)."
Mr Pawar, who has decided not to contest Lok Sabha elections due by May, was elected unopposed to the Upper House on Friday.
Meanwhile, senior NCP leader Tariq Anwar said his party has an "ideological difference with Narendra Modi." "We will never join hands with communal forces," he said.
Mr Anwar was responding to NCP leader and Union minister Praful Patel recently giving a clean chit to Mr Modi over the Gujarat violence in 2002, saying the court did not find any evidence against the Gujarat Chief Minister.
The statement, coming right after Congress vice-president Rahul Gandhi accusing the BJP's prime ministerial hopeful of abetting the Gujarat violence in a televised interview, had strained the NCP-Congress alliance.
"Narendra Modi is still under scrutiny for what happened in 2002... Directly or indirectly, he is responsible," Mr Anwar said today.