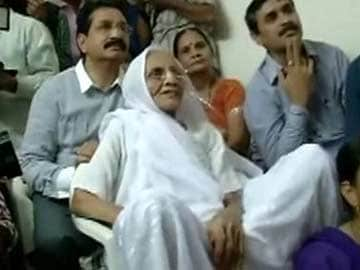 Ahmedabad:
Prime Minister Narendra Modi's swearing-in was an emotional moment for his mother Hiraba and a joyous one for his wife as they watched proceedings on TV, unable to attend the event at Rashtrapati Bhavan.
Hiraba, 95, could not travel to New Delhi because of her age and health and, instead, watched her son take oath on television at home in Gandhinagar with her younger son Pankaj Modi and his family.
As soon as Mr Modi took the stage, they clapped and chanted his trademark lines '
Bharat Mata ki Jai
' and '
Vande Mataram
'.
As Mr Modi read out his oath, Hiraba's and Pankaj's eyes welled up with tears. Hiraba seemed unperturbed by the scores of cameramen and reporters who had crowded the room looking for a soundbyte. Later, the family shared sweets and lit fire crackers near their house.
In Mehsana, Mr Modi's wife Jashodaben too watched him being sworn in on television and said she was happy that her husband was now the Prime Minister of India.
Mr Modi's hometown of Vadnagar too erupted in joy, with celebrations beginning as soon as the ceremony finished. Locals danced and people came out of their houses to light fire crackers as their 'son of the soil' took oath as Prime Minister.
Similar celebrations took place in various parts of Gujarat.