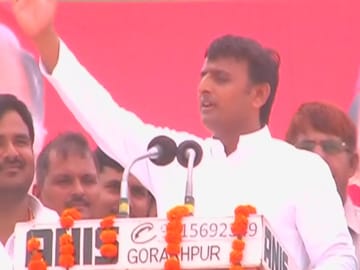 Bahraich:
Narendra Modi
, who has said that a "56-inch chest" is needed for fearless and strong leadership, and suggested that he possesses one, is somewhat misguided, according to Akhilesh Yadav. The young Chief Minister of Uttar Pradesh said that in fact, what Mr Modi has is a "56-inch belly."
"In politics what is needed is a big heart not a big chest," said Mr Yadav at an election rally where he attributed a "56-inch pet (stomach)" to Mr Modi. (
Elections: Full coverage
)
As far as comebacks go, it's considerably delayed. In January, Mr Modi, who is the BJP's prime ministerial candidate, said that Mr Yadav's father, Mulayam Singh, has been unable to develop Uttar Pradesh, where his Samajwadi Party is in power.
"Netaji (Mulayam), do you know the meaning of converting UP to Gujarat? It means 24-hour electricity in every village and street.
You cannot do it. It requires a 56-inch chest
," Mr Modi had said.
Mulayam Singh had prompted that retort by stating that he would never allow Uttar Pradesh to "become Gujarat" - a strike at Mr Modi for the communal riots in Gujarat in 2002, in which more than 1,000 people were killed, most of them Muslims. A Supreme Court inquiry has said there is no evidence that Mr Modi, as chief minister, fueled the violence.
Opinion polls show Mr Modi is leading the BJP to the maximum seats in this election. (
NDTV opinion poll: BJP and allies cross 272 mark
)
In their campaign, Mr Modi and the BJP have told voters to select him based on the economic success of Gujarat, which they attribute entirely to his nearly 13 years as the state's chief minister.
Mulayam Singh Yadav and other political rivals have said that "the Modi model" comes with the sort of deeply divisive politics that led to the Gujarat riots.