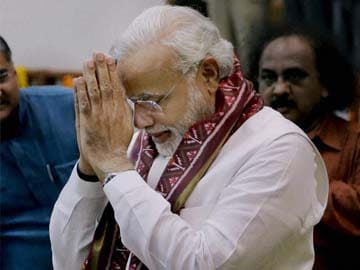 New Delhi:
Narendra Modi
has invited the leaders of Pakistan, Bangladesh and other neighbours to his oath ceremony as prime minister next Monday, in a bold step to embark on a policy of regional engagement. (
Modi to Be Sworn In As India's 15th PM on May 26
)
Afghanistan premier Hamid Karzai has reportedly confirmed he will attend. An official in Sri Lankan President Mahinda Rajapaksa's office has told Reuters that he too will attend.
"The invitation being extended to the SAARC countries is a responsible gesture & as per protocol being sent by the GoI via the MEA (sic)," BJP spokesperson Nirmala Sitharaman tweeted. (
Also Read:
When Narendra Modi Broke Down
)
SAARC nations include India, Pakistan, Bangladesh, Bhutan, Maldives, Nepal, Sri Lanka and Afghanistan.
Pakistan's high commission has received the invitation, which is issued formally by the foreign ministry. It was not immediately clear if Mr Sharif would accept. Analysts said the visit would be politically difficult. (
World Leaders Congratulate Narendra Modi
)
The BJP has indicated that Mr Modi will work to a re-crafted foreign policy. He repeatedly tore into the Congress-led UPA government's foreign policy in his election speeches as "stagnated" and "weak."
His huge victory in the general election gives him the political capital that his predecessor Manmohan Singh, weakened by a raft of graft scandals and public discontent at home, did not have.
Mr Modi's gesture also indicates that the BJP may be softening its traditional tough stance on Pakistan.
After his own election last year, Sharif's administration had also suggested that the Indian prime minister be invited to attend his inauguration ceremony, but Dr Singh declined.
There is no recent precedent for inviting foreign leaders for the swearing in ceremony of an Indian prime minister. (
Also Read: Army Jawan Killed in First Ceasefire Violation After Election
)
Jammu and Kashmir Chief Minister Omar Abdullah tweeted, "Excellent move by @narendramodi to invite SAARC leaders, especially Pak PM for his swearing in. Hope this is beginning of sustained talks (sic)."
Minutes later he again posted, "At the same time I can't help wonder what BJP would have said if a PM designate Rahul Gandhi had done the same thing."
"Politically it's a great move. As the largest country in the region, India should be reaching out to its neighbours," C Raja Mohan, an influential foreign policy analyst, said.