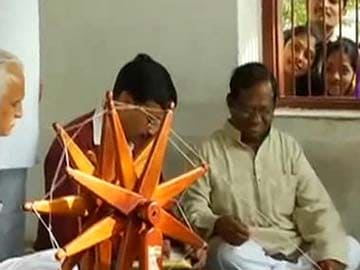 Ahmedabad:
A day after
Arvind Kejriwal
's bid to gatecrash Narendra Modi in Gandhinagar failed, the Aam Aadmi Party chief plans to take on the BJP's PM candidate on his home turf by holding a rally in Ahmedabad today.
The AAP chief is currently holding a roadshow to the rally venue, which was briefly stopped by the cops. The 45-year-old leader was allowed to proceed after he agreed to reduce the number of vehicles in his motorcade.
Mr Kejriwal also visited Mahatma Gandhi's Sabarmati Ashram. "It is my second visit to this ashram, it is a very spiritual experience to be here. Gandhiji's soul resides here, we all have to follow his teachings of truth and non-violence in these difficult times," he wrote in a note there.
The AAP leader has spent the last four days touring Gujarat to audit Mr Modi's governance. Yesterday, he dropped in to meet Mr Modi, who is also the BJP's prime ministerial candidate, with a list of 16 questions that challenge his claims of development of Gujarat on his watch. (
Stopped from meeting Narendra Modi, Arvind Kejriwal says he is not a terrorist
)
Mr Kejriwal's roadshow in Gujarat has been steeped in controversy. The Election Commission says he violated the code of conduct by not seeking prior police permission for his procession through the state; his car and that of Mr Sisodia were attacked; and his brief detention at a police station resulted in street battles between workers of his party and the BJP in Delhi and Lucknow.
AAP is trying hard to emerge as the alternative to the Congress and the BJP in Gujarat. AAP says that if Mr Modi runs for Parliament from anywhere outside Gujarat, Mr Kejriwal is likely to stand against him.