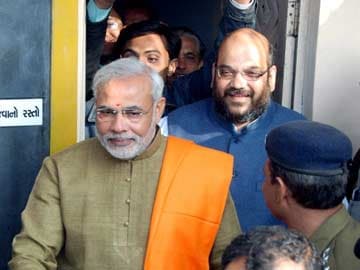 New Delhi:
The BJP has begun its search for a new president, with
Rajnath Singh
being inducted into the
Narendra Modi
cabinet as home minister.
Sources said one of the names being discussed is that of Amit Shah, Prime Minister Modi's close aide who the BJP says scripted a spectacular victory for the party in Uttar Pradesh in the general elections.
For some days now, party general secretary JP Nadda has been seen as a forerunner, and he still remains in contention, the sources said.
Now, another party leader, Om Mathur's name has cropped up too. Mr Mathur is also close to Mr Modi - he was the BJP general secretary in charge of Gujarat for the general elections.
As the tussle gets intense, so is the speculation. Some leaders in the BJP have said that it is unlikely that both the Prime Minister and the party president will be from the same state, Gujarat. They suggest that Mr Modi could be pushing Mr Shah's name largely to scuttle the chances of Mr Nadda, a non-controversial choice, and ensure that Mr Mathur is chosen as a compromise candidate. Mr Nadda has worked with Mr Modi in the past and is said to be equidistant from all factions.
Mr Mathur is from Rajasthan and is a known baiter of Vasundhara Raje Scindia, the chief minister of that state.
Both Mr Mathur and Mr Shah met leaders of the BJP's ideological mentor, the Rashtriya Swayamsevak Sangh or RSS today. Rajnath Singh met too met senior RSS leaders in Delhi to discuss who will take over from him. He has to step down as party chief as the BJP does not allow dual posts for its leaders. He was picked by the RSS to head the party last year.