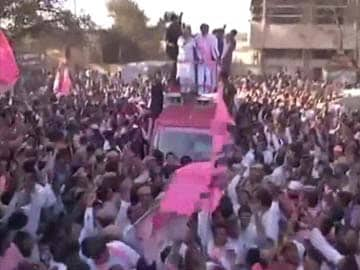 Hyderabad:
When Telangana Rashtra Samiti chief K Chandrasekhar Rao or KCR left Hyderabad three weeks ago to attend the last session of the 15th Lok Sabha in Delhi, he told his supporters that he was leaving Andhra Pradesh, but would return to Telangana.
He returned to a hero's welcome today; Telangana is poised to be India's 29th state.
The TRS leader will lead a victory procession to Gun Park Martyr's Memorial this evening. He will cross the chief minister's office that he hopes to occupy in a few days.
Mr Rao has claimed credit for the creation of Telangana and today's march is expected to be a TRS show of strength. The city is awash in KCR posters.
Parliament cleared the bill that creates Telangana last week. KCR stayed over in Delhi for a few days and met top Congress leaders, including Digvijaya Singh, the party general secretary in charge of Andhra Pradesh. Mr Singh indicated that talks for a merger of the TRS with the Congress were in the final stages.
But KCR says he has not even discussed the shape of the proposed deal with the Congress. His son KT Rama Rao said a final call on this will be taken only after Telangana is formally formed. TRS leader B Vinod said over 90 per cent of the cadre want the party to retain an independent political entity.
The TRS, they argue, is on a strong wicket with local MLAs and leaders from the TDP joining it and many more expected.
While the TRS claims to be the party that has spearheaded the movement for a separate state over the last 13 years, the Congress credits Sonia Gandhi with Telangana. It is also holding TRS to its promise that it would merge with the Congress once Parliament passed the bill.
The BJP has also earned some goodwill for having helped pass the Telangana Bill and its leaders hope that will mean some electoral benefit.
In Delhi, KCR had also met BJP president Rajnath Singh. He described it as "thanksgiving'' visit, but political observers read in it the signal that the TRS is keeping its post-poll options open.