Ahmedbad:
"Thank you so much for organising A Day at IIMA. It was one of the best days of my life. I believe that now I am going to work harder and make it through IIMA," said one of the participants at A Day at IIMA, organised by Prayaas, Indian Institute of Management (IIM) Ahmedabad, on October 2.
A Day at IIMA, the flagship fundraiser annual organised by Prayaas saw a participation of 87 people this year - including but not limited to students pursuing their undergraduate or post graduate courses, school students as well as executives with a number of years of work experience, all wishing to witness the IIMA way of life.
The participants were taken through a normal day in the life of a PGP1 student at IIMA - thereby giving them a flavor of the famed academic rigor, the group activities and the extra-curricular activities of IIMA, said a statement from IIM Ahmedabad.
Three lectures were taken by esteemed faculty in varied fields, namely, a lecture on Supply Chain by Prof. Debjit Roy, a marketing session by Prof. P.K.Sinha and an insightful session on Emotional Intelligence by Prof. Neharika Vohra.
Saturated after three lectures, whilst the participants were enjoying a sumptuous lunch at the students' mess, a surprise quiz was announced at 1:45 pm sharp, replicating the normal PGP1 schedule.
A group activity followed the quiz and Prof. Vishal Gupta gave the participants insights into team building and working in teams.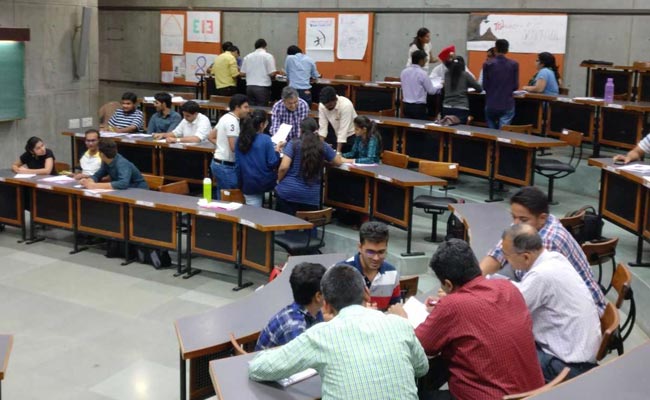 Finally, the Prayaas team took the participants around the campus, showing and explaining the idea behind the heritage campus designed by Louis Kahn and the new campus designed by Ar. Bimal Patel.
The participants later attended speaker sessions organised at The Red Brick Summit (TRBS) and shopped at Kaleido, the flea market of TRBS.
"We think
A Day at IIMA
was a huge success, since we were able to fill almost the entire capacity we had, thereby being able to raise a good amount of funds for Prayaas. We would like to thank all the participants for the enthusiasm they showed and we believe that we were able to match the expectations that they had, coming to IIMA. We have also been requested to have A Day at IIMA as a semi-annual event instead of an annual one, and Prayaas will look into it next year," commented Siddharth Vora, the coordinator of Prayaas, when asked about the event and response.
Click here for more
Education News