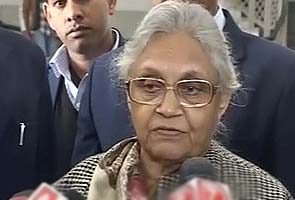 New Delhi:
A day after an irod rod was shoved down the throat of a student shouting for help while a man tried to rape her, Chief Minister Sheila Dikshit said, "Women don't feel safe in Delhi." She said "fears have risen" after yesterday's assault in South Delhi.
The vulnerability of women in Delhi has been an impassioned national debate since the fatal gang-rape of a 23-year-old on a bus in Delhi in December. Five men are being tried for her gang-rape and murder at a fast-track court.
The heinous assault triggered large protests and outrage; the Delhi government launched a helpline (181) for women in distress, whose performance has been spotty. Many who tried calling it were put on hold. Others said the helpline rang out.
Yesterday, a college student in Lajpat Nagar was alone at home when an electrician forced his way into the house and tried to rape her. She tried to defend herself with an iron rod; he pushed the weapon down her throat when she began shouting for help. He ran away soon after, and her neighbours, who had heard her screams, rushed her to hospital.
The police and government have promised a litany of new measures to improve security for women in India's "rape capital." More public buses are being added at night, the licenses of their drivers will be displayed. Additional police vans will patrol Delhi.
Ms Dikshit has called for urgent police reforms to sensitize those responsible for law enforcement. After December's gang-rape, she said that Delhi Police Commissioner Neeraj Kumar should quit. The Delhi Police reports not to the chief minister but to the Lieutenant Governor of the city, Tejinder Khanna.