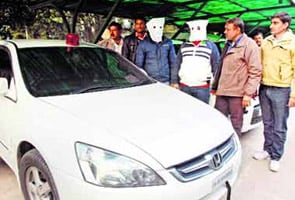 Delhi:
They robbed, then escaped by posing as VIPs and later spent their ill-gotten wealth on religious functions to ward off the suspicion.
But luck didn't last long for the accused Vishal Sharma and Varun Kumar (both 25) when Delhi Police arrested Vishal who was on the run after snatching a gold chain.
During questioning, the cops found that he had an accomplice and both were involved in 21 cases of snatching and robbery in Delhi. Acting on the information provided by Vishal, the cops then arrested Varun. Police said that the duo had amassed huge wealth running into crores from robbery, snatching and car jacking. Both are residents of Sonepat.
"After committing a crime, they used to place a red beacon on a car (often a stolen one), switch on the hooter and rush through the city traffic and police check posts within the city and on the Singhu border posing as VIPs," said Chhaya Sharma, DCP, outer Delhi.
Describing their modus operandi, the DCP said, "For committing a robbery, the accused used to arrive in their car and park it near Metro Station at Ramesh Nagar. From there they used to take their motorcycle and visit any nearby bank. Here, they used to keep track of customers who withdrew huge amounts of cash. After identifying a soft target, they used to rob him of his money.
"They also operated in big and crowded markets like Pitampura, Rajouri Garden, Paschim Vihar, etc. and snatched purses and chains. The accused used to get the stolen jewellery redesigned from jewellers in Patel Nagar. With the stolen money, they built houses in Sector-12, Sonepat and purchased luxury cars and jewellery."
Police has recovered Rs 22 lakh cash, nine gold chains, one Honda Accord and one Hyundai i10 car and one Bajaj Pulsar bike from their possession. "The accused pretended to work as property dealers and were very popular in their hometown. They used to spend a lot of money on religious functions too," Chhaya added.