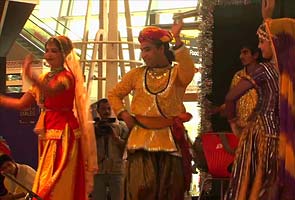 New Delhi:
Passengers at the international airport in New Delhi will get a unique treat -- a chance to witness Indian danceforms as part of a five-day long festival of contemporary and classical dance.
Pandit Jai Kishan Maharaj, son of Pandit Birju Maharaj, whose dance troupe Birji Maharaj Parampara has choreographed and will perform the dances, inaugurated the extravaganza at Terminal 3 of the Delhi International Airport (P) Limited (DIAL) on Wednesday evening.
The range of performances include classical genres like Kathak and Bharatnatyam as well as regional dance forms including Haryanvi, Kalbelia, Chhau and Dandiya.
"This is the first time that any airport in India has undertaken an initiative of this kind to promote classical dances," said DIAL CEO, I Prabhakara Rao in a statement on Thursday.
"This is just an extension of our long connect with Indian culture which is manifested all over the airport and especially at Terminal-3. Events like this also signify that travelling out of Delhi Airport is not merely catching a flight but an experience that one carries home," he said.
Pandit Birju Maharaj, who is currently touring the US, said, "I have performed across the world at varied venues with my troupe in locations like stadiums, auditoriums, open-air amphitheatres and such. But, this is surely the first time that troupe from Birju Mahraj Parampara will be performing at an airport.
"I am happy that such a step has been taken by the airport authorities. This will go a long way in promoting Indian culture at what is surely the new Gateway of India."
Pandit Jai Kishan Maharaj said, "This event organised by GMR Delhi Airport is a great attempt through which I think people who travel and our foreign guests in transit get a glimpse of our culture here and remember it as a part of their journey.
"The airport is a beautiful stage for this event and I hope they continue to organize these events in the future."
The airport sports many facets of Indian culture such giant works of art by modern artists M F Husain and Paresh Maity as well as sculptures of mudras.
Dance performances are scheduled between 6 am to 9 pm and 5 pm to 8 pm at the T-3 domestic departures and between 12 noon to 3 pm and 11 pm to 1 am at the T-3 international departures on Thursday and on November 20, 21 and 22.