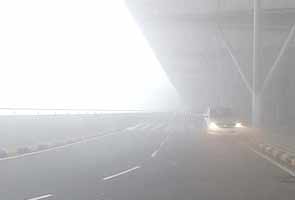 New Delhi:
Delhi was all fogged out early morning today, forcing airport authorities to shut down the runways and affecting 86 flights.
Fifty eight domestic flights could not take off on schedule. Seven international flights were delayed.
There was delay in the arrival of 17 domestic flights. Four had to be diverted to other cities.
(Share your pictures and videos here)

Visibility on both the runways was below 50 metres - a minimum of 125 metres is required for flights to take off.
Fog started engulfing the airport last night and was too dense by this morning.
There was thick fog in south Delhi as well and on the toll road connecting the Capital to Noida. Visibility was almost zero in stretches on the Outer Ring Road.
A shallow cover of fog has hung over Delhi for the past few mornings, but it cleared up as the day progressed.
(With PTI inputs)