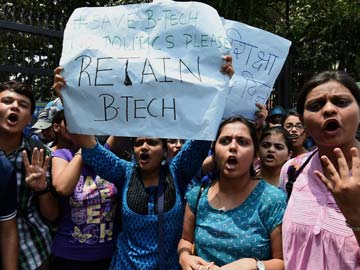 New Delhi:
The Delhi University (DU) will be releasing its first cut-off list for the 2014-15 academic session on July 1 at 9 am in the morning and the admission and payment of fees will begin on the same day and will extend till July 3.
This comes after a series of protests against the university's controversial Four-Year Undergraduate Programme (FYUP). The Executive Council of the DU formally passed a resolution this morning scrapping the programme.
The DU had finally decided to scrap the course yesterday, after a series of stern directives from the University Grants Commission or UGC and strong protests by the students.
But not everyone is happy with the university's decision to scrap the FYUP.
Students of the university's BTech course held protests outside Vice Chancellor Dinesh Singh's office today. They are among the 60,000-odd students admitted to the FYUP last year, who are now worried about the future of their course.
The UGC is now working on a plan to shift the students who were admitted last year under the four-year programme to the three-year format.
The standoff between the DU and the UGC - the central funding agency that coordinates college education policies - had forced around 60 colleges in Delhi to put admissions on hold.
Nearly three lakh students have applied for admission to some 54,000 college seats.
Teachers' associations which had backed the Vice Chancellor and the DU over the FYUP are reportedly worried about whether the autonomy of the University is in peril after it was forced to give in to the UGC's directive.
Meanwhile, some members of the Academic Council of the DU, which also passed a resolution scrapping FYUP, have alleged that it was forcibly passed by the panel.
The Academic Council acts as an advisory body for the Executive Council.