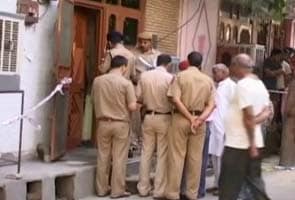 New Delhi:
The recent spate of murders in Delhi has once again brought to light the increasing lawlessness in the National Capital Region (NCR). It seems the national capital, often referred to as the crime capital, is unable to control or prevent crimes.
The latest in a series of gruesome murders, 52-year-old Yogender Pratap Singh Chauhan, his wife, Rekha, 50, and their 22-year-old daughter, were found with their throats slit by a sharp-edged weapon inside their house in North Delhi.
The murders were discovered when a local priest's daughter went to call Rekha, who was to join the priest and nine other women on a pilgrimage to Vaishno Devi.
"She (priest's daughter) found the gate open... she went inside and found Chauhan lying in a pool of blood. She raised an alarm and neighbours informed police," a police officer said.
The police believe the murderer was known to the family, as there was no forced entry.
"The preliminary inquiry is on... It is wrong to ascertain the motive right away," said Tejinder Luthra, Additional Commissioner of Police, Northern Range, Delhi.
In the past few months, the crime graph in Delhi has spiralled. Just this month, there have been over 20 shootout cases in the NCR.
On September 21, a doctor was shot at point blank range in Noida, a Delhi suburb. Shockingly, he was shot right next to the Noida Senior Superintendent of Police's bunglow. The reason for the shooting is yet to be established.
Just two days before that, on September 19, a cardiologist was killed at his home in Central Delhi by a former Army jawan, who was in love with the doctor's domestic help.
On September 7, five people were killed, including the two shooters, in Swaroop Nagar in North Delhi. Three others were critically injured.
And on September 4, six people were killed in a shootout in South-West Delhi's Bindapur.
In September alone, 14 deaths have happened in just 10 days. But that's not all. As against the 268 attempted murder cases in 2011, there have already been 285 such instances this year. And there are three more months to go. These are shocking statistics and a clear indication of the rising crime and the availability of firearms in the national capital region.