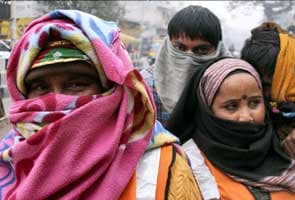 New Delhi:
It was the coldest January morning for Delhi in last five years as mercury dropped to 2.7 degrees Celsius today, 4 notches below normal.
(Share your pictures and videos)
Dense fog in the early morning hours affected road, rail and air traffic in the capital. Schedules of around 50 flights were affected due to fog.
The Met office has predicted similar weather conditions for the day with morning fog giving way to a clear sky later in the day. The temperature is likely to be around 14 degrees Celsius.
On Thursday, the capital recorded a maximum temperature of 12.7 degrees Celsius, 8 less than normal and a minimum of 4.4 degrees Celsius, 3 less than the usual.
Delhi recorded its coldest day in 44 years on Wednesday when day temperatures plummeted to 9.8 degrees Celsius.
In view of the intense cold wave conditions in the city, the Delhi government has ordered all schools under it to remain closed until January 12.
(Read)
(With inputs from Agencies)