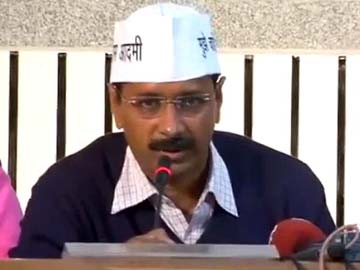 New Delhi:
Soon after assuming charge as Delhi's seventh chief minister,
Arvind Kejriwal
held a press conference where he announced the portfolios of the six other members of his Cabinet.
Chief Minister Kejriwal has retained key portfolios including Home and Finance. Power, a major plank during his campaigning, has also been retained by the 45-year-old leader. (
We are here to serve, says Kejriwal
)
His close associate,
Manish Sisodia
, has been given Education and Urban Development.
While announcing 26-year-old minister Rakhi Birla's portfolios, Mr Kejriwal said he has asked her to focus on women's safety in the national capital.
With all the seven ministers being under 50 years, it's a young Cabinet in Delhi now with an average age of 40. (
Meet the ministers
)
The portfolios allocated today include:
Arvind Kejriwal: Home, Power, Finance, Vigilance, Services and all other departments not allocated to others
Manish Sisodia: Education, Higher Education, Public Works Department, Urban Development, Local Bodies, Land & Building and Revenue

Somnath Bharti: Tourism, Law, Administrative Reforms, Art & Culture

Saurabh Bhardwaj: Food & Supply, Environment, Transport, Election

Rakhi Birla: Women & Child, Social Welfare, Women's Safety, Languages

Girish Soni: Development, Employment, Scheduled Castes & Scheduled Tribes
Satyendra Kumar Jain: Health, Industries, Gurudwara