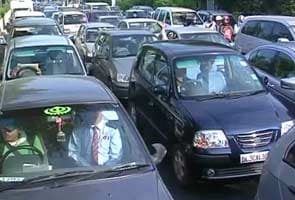 New Delhi:
Motorists in the city will have to shell out more on parking fees with Delhi Government approving a long-pending proposal to hike the rates sharply, primarily to curb the increasing number of private vehicles.
Sources said Lt Governor Tejendra Khanna cleared the proposal to hike the parking fees following which Transport Department asked all the civic bodies to implement the decision.
According to the government order, a motorist will have to pay Rs 10 for first 30 minutes while Rs 20 will be charged per vehicle for the first hour.
The rate has been fixed at Rs 50 for three hours.
Sources said rates will see a jump of 50 per cent during the peak hours.
The peak hours will be from 9 AM to 11 AM and in evening from 5:30 PM to 7 PM.
Currently, in parking slots approved by civic bodies, Rs 10 is charged for first two hours while Rs 10 is added for every hour thereafter.
Officials in Transport department said now the onus will be on the civic bodies to implement the decision.
The Government has been pushing for hike in parking rates to encourage people to use public transport.
As per a study, currently 11 per cent of total area in the city is being used for parking space and "The government feels there is no other alternative but to make hefty increase in parking fee to restrict number of private vehicles," the officials said.
According to statistics, there are nearly 65 lakh vehicles registered in the city while the total number of vehicles in Delhi is more than the total number of vehicles in Mumbai, Chennai and Kolkata.
On an average over 1,000 vehicles are added to the city roads everyday.
The High Court appointed Special Task Force, in its report in February last year, had strongly recommended hiking the rates significantly.
Levying of hefty road tax, introduction of congestion charge and putting high premium on parking were some of the measures the Centre for Science and Environment (CSE) had suggested to Delhi Government to check growth of private vehicles and overcome the traffic mess in the city.
The CSE citing examples of various cities including London, Stockholm and Tokyo, said experience from across the world showed that parking controls, parking pricing along with taxes top the list as first generation car restraint measures.