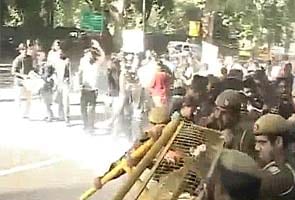 New Delhi:
For the second day in a row, protests were held across India to share anger and outrage over Sunday night's gang-rape of a young woman on a bus in Delhi.
In Delhi, protesters who tried to march to the home of Delhi Chief Minister Sheila Dikshit, the police used water cannons to stop them.
The demonstrators, shouting slogans against Ms Dikshit, were demanding urgent measures to improve security for women in the capital. They also said she should resign."This is a total systematic failure... it's not the failure of one agency," said a visibly agitated woman participating in the protest.
The chief minister, who was not at home, said, "I welcome the representation from those who are protesting outside my house." She added, "We should not politicise this issue."
Last night, Congress president Sonia Gandhi sent the chief minister a firmly-worded letter demanding that conditions be improved for women in Delhi. "It is a matter of shame that these incidents recur with painful regularity and that our daughters, mothers and sisters are unsafe in the capital city," Mrs Gandhi wrote.
At the Delhi Police headquarters, 150 women held a separate protest demanding more police patrols and fast-track courts to deal with rapists. Hundreds of policemen prevented them from entering the building to meet Police Commissioner Neeraj Kumar.
Actor and parliamentarian Jaya Bachchan, who made an emotional speech in the Rajya Sabha yesterday about the gang-rape, visited the police commissioner and said, "Mr Commissioner gave us an insurance that this case will be dealt with in a very severe manner. The government of India and the people of Delhi should give him all the help that he requires, and the Home Minister has promised to help. I also request that the government should help the victims and their families."