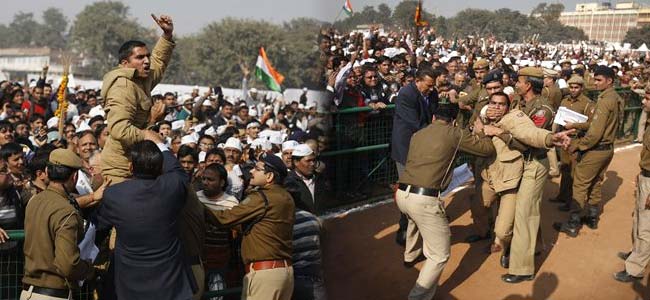 New Delhi:
A Delhi Police constable's over enthusiasm landed him in soup as he was suspended for climbing a barricade and shouting slogans during the swearing-in ceremony of Chief Minister Arvind Kejriwal and his cabinet ministers.
The constable, identified as Rajesh Kumar, was posted with the fourth battalion of the Delhi Armed Police and deployed at the Ramlila Ground for crowd management on Saturday.
According to eye-witnesses, instead of performing his duty, Kumar allegedly flung his beret cap in the air, climbed the barricade and started shouting slogans supporting Mr Kejriwal. He even demanded that the Delhi Police be brought under the city government.
His colleagues had to intervene and bring him down. He was then taken out of the venue, police said.
Kumar, who hails from Rajasthan and joined the police force in 2010, has been suspended and a departmental inquiry has been initiated against him for insubordination, they said.
A senior police official said that he was wearing uniform and was on duty when he performed this act, which is sheer indiscipline.
"If he wanted to express his personal views, he should have done it privately," he said.