Highlights
The 24-year-old who was driving BMW arrested several hours after incident
Man driving BMW denies being drunk but admits he lost control of car
The Uber cab was flung in the air due to the impact of the crash
New Delhi:
A young executive working for a multi-national company was driving his BMW at 120 km per hour in Delhi when he crashed into an Uber cab on Sunday night, killing its driver instantly.
It was Nazrul Islam's first day as an Uber driver. The 30-year-old was the only earning member of a family that includes his wife, two little children and his grandmother.
24-year-old Shoaib Kohli, who was driving the BMW, was let off on bail today, less than 24 hours after his arrest on Monday.
Mr Kohli, according to the police, denies being drunk but admits that he was driving at breakneck speed and lost control of the car. But he has blamed the cab driver, claiming that he suddenly braked.
Both cars, headed from Kalkaji to Vasant Kunj, were almost completely wrecked.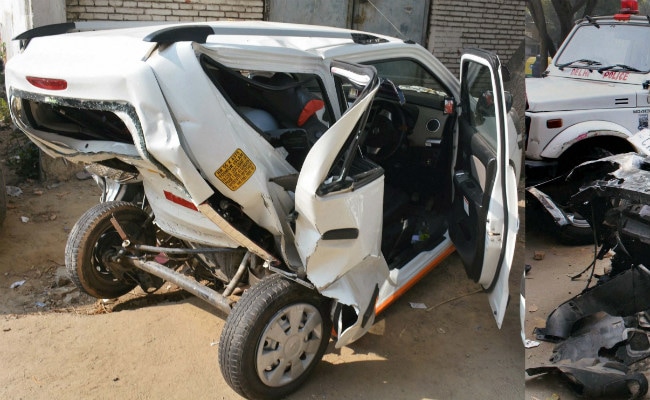 The impact was such that the cab, a Wagon R, was flung in the air and skidded for a few metres before coming to a stop at the flyover near the Delhi IIT. An eyewitness described the crash as being "loud like a bomb blast".
Mr Kohli was gone from the spot within moments. He has claimed to the police that he stopped and tried to help the Uber driver but was afraid of being lynched and so took an auto ride home. He went to the police station with his father yesterday.
Scores of cab drivers protested outside the police station near the accident spot. Sandeep Kumar, who has been driving an Uber for six months, said: "Our driver has died, and the accused gets bail in one day. How is that fair?"
The BMW belongs to Mr Kohli's mother, who is a member of the Delhi Gymkhana Club. The family lives in an upscale south Delhi neighbourhood.
Nazrul had recently lost a job with another cab company. One of his children is in Class 2 and the other is in playschool. Nazrul's wife works as a domestic help.