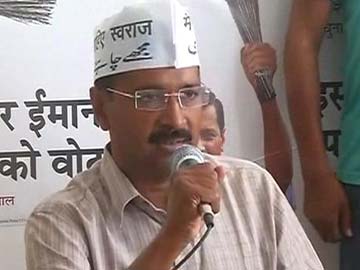 New Delhi:
Arvind Kejriwal, the chief of the Aam Aadmi Party (AAP), has written to the
Prime Minister
, urging him to hold power distribution companies in Delhi responsible for massive outages as summer temperatures soar.
Mr Kejriwal, who was chief minister of Delhi for 49 days at the start of the year, has also asked the PM for "ten minutes" to discuss the power crisis.
Angry protests broke out on Tuesday at midnight in north-eastern Delhi with residents attacking vehicles as frustration mounts over the power cuts.
Yesterday, union Power Minister Piyush Goyal said it will take two weeks to resolve the crisis in the capital.
(10-Day Deadline To Fix Delhi's Crisis, Vows Power Minister Piyush Goyal)
Mr Kejriwal wrote to Mr Modi, "In the months of January and February, when the Aam Aadmi Party was in power in the state, people were getting uninterrupted power supply."
He said that "private power distribution companies (discoms) are not doing their job properly... It, however, appears that the government is shying away from fixing the accountability of discoms and at times one gets an impression that the government is trying to protect these discoms."
(Read full letter)
As Chief Minister, Mr Kejriwal had warned distribution firms that their licenses would be cancelled if they inflicted power outages on the city. The companies had said that they were unable to buy power from state-run firms because they were being forced to operate at low tariffs.
Mr Kejriwal had slashed power prices by half, but those lower rates ended at the end of the financial year on March 31. He has asked the PM to reintroduce the cheaper rates.
Power outages in Delhi and other parts of the North have been triggered by a spike in demand as temperatures soar, leaving a dilapidated electricity infrastructure unable to cope.