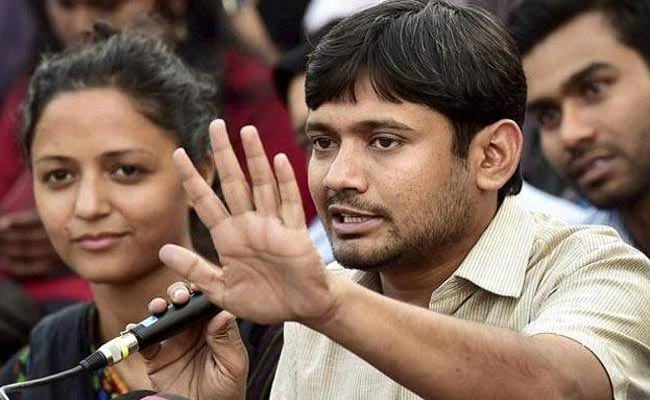 New Delhi:
Defiant JNU students who have been punished in connection with a controversial event on campus have asserted that they will neither pay the fine, nor vacate hostels as ordered by the university and will go on an indefinite hunger strike from today demanding the withdrawal of orders.
"We have rejected the so called high-level enquiry committee right from the day it was set up as an undemocratic and biased one, so there is no point accepting the punishment meted out to us on basis of its findings," JNU students union president Kanhaiya Kumar told reporters in New Delhi.
Kanhaiya Kumar, Umar Khalid and Anirban Bhattacharya were arrested on charges of sedition in February in connection with an event against hanging of Parliament attack convict Afzal Guru during which anti-national slogans were allegedly raised. They students are now out on bail.
The university, on Monday, rusticated Umar for one semester, Kashmiri student Mujeeb Gattoo for two semesters and Anirban till July 15. As per the decision, Anirban Bhattacharya has been barred from pursuing any course in JNU for next 5 years. Kanhaiya Kumar has been penalised with Rs 10,000.
13 other students have been let off with varied fines. The campus has been made out of bounds for two former students -- Banojyotsana Lahiri and Draupadi -- while hostel facilities of Ashutosh Kumar and Komal Mohite have been withdrawn for a year and till July 21 respectively.
"We have decided that none of the students will pay the fine or vacate their hostels. We demand that the university administration withdraws these orders as we have maintained right from the beginning that we do not have faith in this enquiry panel and it should be reconstituted," JNUSU Vice President Shehla Rashid Shora said.
"We will begin an indefinite hunger strike from Wednesday after staging a protest march from varsity's Ganga dhaba to the administration block. The decision has been well-timed by the university officials to avoid any protests as summer break is about to begin but we will not bow down. We will continue our fight," she added.
Anirban, who has been given a window of a week (July 15-23) to submit his thesis and has been debarred from university for five years beginning July 24 said, "I am not going to vacate my hostel and follow any of the punishment orders but as a student I am going to stick to the deadline for my thesis submission. I am a bit scared about my future, but we will fight against the administration".
The university officials, however, maintained that the students have an option of filing an appeal before the Chief Proctor if they are not satisfied with the decision.
"If they want to file an appeal, we will give them an option to be heard. However, if they are not filing an appeal, they are supposed to vacate hostels immediately and pay fine by May 17," a senior university official said.
He, however, did not comment on what will be the university's course of action if the students don't vacate the hostels.
Meanwhile, a delegation of the JNU Teachers Association (JNUTA) met Vice Chancellor Jagadesh Kumar today and raised concerns over the punishment orders.
"It was an unfruitful meeting. We have decided to call an emergent general body meeting on Thursday to decide on future course of action," a JNUTA member said.
Questioning the hurry in announcing the decision and the priority of the vice chancellor, Kanhaiya Kumar said, "since this is subjudice what is the hurry? Also the committee report said outsiders raised slogans, then why punish the insiders? VC was on leave and on his return first thing he did was this, but he is not addressing hostel issues, OBC reservation, deprivation point. This administration is running from phone calls coming from outside," Kanhaiya Kumar alleged.
Meanwhile, five members from ABVP sat on an indefinite hunger strike on Tuesday, against the imposition of penalty of Rs 10,000 on Saurabh Kumar Sharma, lone ABVP member in JNU students union and complainant in the controversial Afzal Guru event.
"I was the one to object to an anti-national event and I have been penalised and equated with Kanhaiya Kumar. We had spoken to the administration demanding strict punishment against the ones who have been found guilty and withdrawal of my fine.
"But we have not got any assurance so far so we are beginning a hunger strike," Saurabh said.