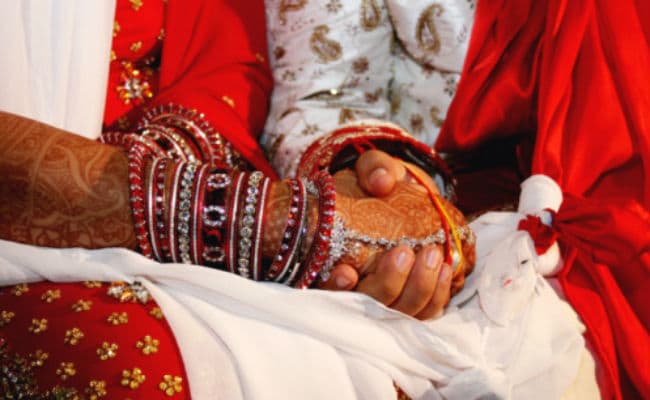 New Delhi:
With December 7 being considered one of the "most auspicious days" for marriages this season, Delhi is set to witness around 25,000 weddings on Monday. However, with limited facilities available, commoners feel this might create chaos in the capital and there might be mind-boggling traffic jams on the streets.
Monday might be a working day, but December 7 is being celebrated as an auspicious occasion for weddings.
"The planet that we consider for auspicious marriage day - Shukra (Venus) - is in its own sign Libra today (Monday). When we search dates for weddings, we look at the positioning of Shukra. Also, we look at the position of Chandrama (Moon). Today both of them are in Libra. This is the biggest reason why December 7 is one of the most auspicious days for marriage," astrologer Ridhi Bahl told IANS.
"Astrologically, marriages that will take place today (December 7), will last long," she added.
Delhi-based wedding planner Amardeep Singh, who is handling nine weddings on Monday, says "there are around 25,000 to 35,000 weddings happening in the capital itself".
"Today is a very auspicious day. Though it's a working Monday, weddings have nothing to do with it as it is a precious moment.
"I'm handing nine clients today. Due to lack of availability of banquet halls, one of my clients had to do his function in afternoon. Though Uttar Pradesh and Bihar are our prime source for manpower, we have brought some workers from Madhya Pradesh too," he said.
Not only that, Amardeep Singh added that workers were also demanding "double wages" on Monday because of the paucity of labour.
While, it may be a precious and auspicious occasion for those families who are celebrating these weddings, other people feel this will create a mess on roads as it's a working day.
Many people even took a dig at "25,000 weddings" happening in the national capital, while talking about the topic on Twitter, where they warned each other to skip going out.
Here's what they shared on the micro-blogging site:
Samya Ghosh: Delhi to witness 25000 weddings today! As if we didn't have enough traffic woes on a normal day!
Mohit Malani: 25000 weddings in Delhi today! Really need the even odd number plate implemented today.
Jacob Abraham: 25000 weddings. All the best to all those on the Delhi NCR roads today after 8 p.m.
Marhoom: 25000 weddings in Delhi today. Means 50,000 people have decided to gamble together? #justasking.
Sharninder: 25000 wedding processions. 25000 diesel gensets. 25000 traffic jams. 25000 times pollution. So many numbers.
Keetu Da: 25000 weddings in Delhi-NCR today. Lord save Facebook and people who are driving on roads and have nothing to do with these weddings.
Err: 25000 weddings happening in Delhi-NCR today. You can feed the rest of India with the amount of food that get wasted in those weddings.