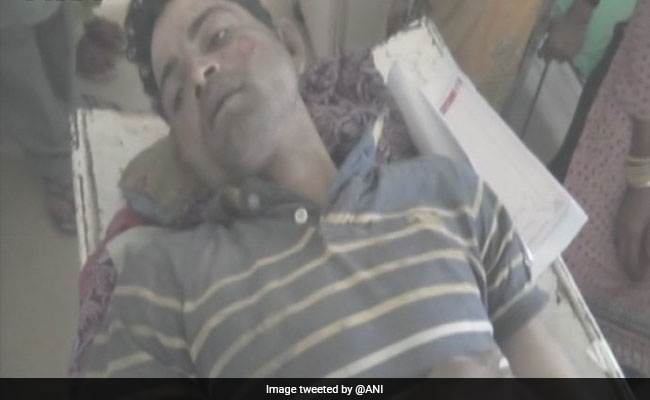 Faridabad:
Three of the seven accused who beat up a differently abled autorickshaw driver and a few others in Faridabad on suspicion of carrying beef have been arrested, the police said. The cops are looking for the other accused.
Azad, the disabled driver thrashed in Faridabad on Friday, alleged his attackers had poured petrol on his face and were about to light the matchstick. "Just then, the SHO (police station head) reached there and saved me," he told NDTV.
"He is an angel for me," Azad said about the police station in-charge in Haryana's industrial hub. He was able to persuade the attackers to back down and took him to a hospital. No action was taken against the suspects then.
By then, Azad says he had been kicked and punched for nearly four hours that have left large black and blue patches on his back, arm and leg. Twice, he said, "they rode a motorcycle over me".
"When I could no longer take the pain from the beating... I fell unconscious," he said.
Azad and a teenager working with the meat trader who hired the vehicle were
accosted by six men
in the national capital's suburb who accused them of transporting cow meat.
"I told them it wasn't beef and we could go to the police or get it checked anywhere they want... but they didn't listen," he said. His three cousins who responded to his phone call for help were also beaten up.
Astha Modi, Deputy Commissioner of Police of Faridabad NIT district, told NDTV that they had identified seven of the suspects and would arrest them soon.
She added that a case initially registered against Azad and others would be cancelled since the veterinary officer they had consulted confirmed he was transporting buffalo meat.
Under Haryana 2015 law against cow smuggling, transporting cow meat is crime. Ms Modi said transporting buffalo meat was not a crime under this law.
The shocking incident comes a month after the Supreme Court delivered a sharp message to states on cracking down on cow vigilantism.
The court has asked all the states to appoint a senior police officer as Nodal officer in every district to ensure that vigilante groups don't take law into their hands. It has also directed the senior-most bureaucrats in every state to ensure highway patrolling to prevent such incidents.
The first incident of cow vigilantism was reported from Dadri in Uttar Pradesh in 2015, in which Mohammad Akhlaq was beaten to death after allegations that he had killed a cow. In July last year, four Dalit men were stripped, tied to a car and flogged in Gujarat.
As reports of similar incidents from other states piled up, Prime Minister Narendra Modi and his union ministers issued strong statements against cow vigilantism. Condemning cow vigilantes, PM Modi said, "I have seen that some people are into crimes all night and wear the garb of gau rakshaks in the day".