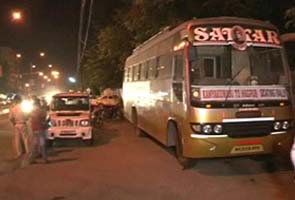 Nagpur:
A 23-year-old man was shot dead when he tried to stop three men from harassing his girlfriend in Nagpur on Wednesday evening.
At about 7.30 pm on Wednesday, Roshan Samrit, an undergrad student, was out on his motorcycle with his girlfriend following on her two-wheeler, when the three men, as yet unidentified, allegedly began to follow the girl on bikes.
At the Medical College Square, they allegedly accosted the girl and asked her for her phone number. When Roshan objected, the police said, one of the men pulled out a country-made revolver and shot the student at a point-blank range.
He was rushed to hospital, where he died.
A crowd had gathered as Roshan argued with the men for about seven minutes before he was shot, but no one offered help to the young student, witnesses said.
In 2011, two students, Keenan Santos and Reuben Fernandez, were killed in Mumbai while trying to protect their female friends who were sexually harassed by a group of men outside a Mumbai eatery. They were stabbed after a scuffle, as a crowd gathered around and watched. No one came to their assistance either.
Earlier this week, Jaipur demonstrated its unwillingness to help when vehicles whizzed past a man pleading for assistance after an accident, as his wife and infant lay fatally wounded on the road for about 20 minutes.