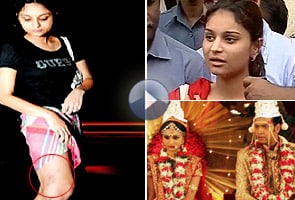 Mumbai:
The wedding of small-time Kolkata model Dimpy Ganguly and slain BJP leader Pramod Mahajan's son Rahul was the reality TV wedding of the year.
But in less than four months, it's hit a sour note with Dimpy accusing Rahul of physical abuse and walking out.
She says Rahul allegedly punched, kicked and dragged her by the hair.
"Rahul beat me up early on Thursday morning after waking me up to know the contents of a message that had beeped on my phone. When I asked him to go back to sleep, he flew into a rage and began hitting me. He punched, kicked and dragged me by hair," the 22-year-old model told a TV channel.
Soon after, she was back in the Mahajan family home but says she needs time to think.
"He says he has regretted what he did. I need some time alone to think," Dimpy said.
Dimpy had married Rahul with much fanfare on the Imagine TV reality show "Rahul Dulhaniya Le Jayega" in March this year.
This is the second time that Rahul, who was also involved in a drug abuse case, has been accused of domestic violence.
His first wife Shweta Singh, who was his childhood friend, had accused him of physically abusing her. The couple got divorced in 2008 after which Rahul participated in Colors' reality show "Big Boss". He continued to be in the limelight for his closeness with co-contestants Monica Bedi and Payal Rohatgi.
Incidentally, Rohatgi too has alleged harassment by Rahul, saying he has been calling her asking for a second chance.
"I just don't want to be harassed anymore. That's about it. I don't want to speak to him. He is a married guy," Rohatgi said.
Senior BJP leader Pratap Ashar, a close associate of Pramod Mahajan who was present at the live wedding function of Rahul and Dimpy, refused to be drawn into the controversy saying that he did not know anything.
As the heir to his father's political legacy, Rahul Mahajan had it all. But he has squandered his legacy with allegations of drug abuse and repeated domestic violence.
Rahul's first marriage ended after allegations of violence. His television stint was an attempt to restore his battered image, but the real life re-run could come in the way.
(With PTI inputs)