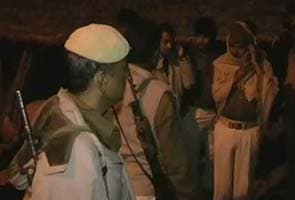 Pratapgarh, Uttar Pradesh:
A police officer was among two persons killed in Ballipur village of Pratapgarh district in Uttar Pradesh during clashes following the murder of a village
pradhan
(head).
The incident happened on Saturday evening after village
pradhan
Nanhe Yadav was gunned down in the heart of the village allegedly by a person named Guddu Yadav over what is believed to be a property dispute.
Cops later landed at the scene of the crime but were chased away by irate villagers who later beat up some policemen. The police retaliated, resulting in a gunbattle. Deputy Superintendent of Police (DSP) Zia-ul-Haque was killed in the crossfire between police and villagers. He was shot in the chest and head.
The brother of the village
pradhan
, Suresh Yadav, too was allegedly killed in the firing.
"We know that it is a property dispute...there was some problem. Immediately after
pradhanji
was killed, some people from the mob itself...with weapons opened fire. The police reached the spot and tried to control the gun fire. Police enforcement was coming in...and the villagers fired at them and in the end, the body count was two," Arun Kumar, Additional Director General of Police (Law and Order), said.
There is heavy deployment of police in the village following the incident.