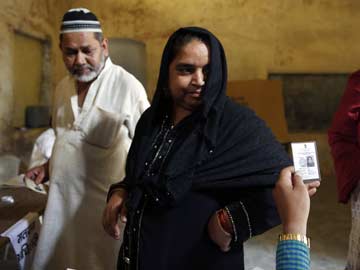 New Delhi: Almost 64% of the electorate exercised their franchise in 64 constituencies spread across seven states today, the penultimate round of voting in the Lok Sabha elections. It marks a jump of some 7 % over the 2009 figures. At the end of the day, voting in 92% of the total 543 constituencies had been completed.

The 502 constituencies for which voting has taken place till now have recorded a turnout of 66.25%.
Here's Your 10-Point Cheat-Sheet to This Phase:
Of the 64 seats where polling was held today, the BJP had won only five in 2009. The Congress had won 34 and faces the uphill task of trying to retain its seats in the face of a resurgent .Narendra Modi-led BJP, which is expected to win the maximum number of seats in this national election.
The 15 seats that went to polls in Uttar Pradesh witnessed a turnout of 55.52, up from 43.37% in 2009. Mr Modi's party is hoping to make big gains in the state. The Congress had won seven of these last time, the BJP none. Amethi, the constituency represented by Congress vice-president Rahul Gandhi since 2004, recorded a voting percentage of 54.24.(Amethi Decides Today Whether to Abort Support to Gandhis)
Rahul Gandhi visited Amethi early this morning, in what is being seen as an acknowledgment of the fact that he faces his toughest electoral challenge ever. In the last hours of campaigning on Monday, the BJP's prime ministerial candidate Narendra Modi landed in Amethi and declared that his party's candidate, popular actor Smriti Irani, was in the Gandhi bastion to win. Also contesting is Kumar Vishwas of the Aam Aadmi Party, who has camped here for months. (Rahul Visits Amethi on Polling Day, Rebuts Modi on 'Neech Rajniti' Row)
The Seemandhra regions, which will form the downsized Andhra Pradesh starting next month, saw 76.01% voters exercising their franchise. Elections were held to pick 25 members of Parliament and 175 state law-makers in what is seen as a contest between Chandrababu Naidu of the Telugu Desam Party and Jagan Mohan Reddy, chief of the YSR Congress, for the post of chief minister. Both also want the biggest share of the Lok Sabha seats to play a role in national politics. ('Will Make a Clean Sweep', Says Jagan as Seemandhra Votes)
The BJP, led by Prime Ministerial candidate Narendra Modi, hopes its alliance with Mr Naidu will help it add crucial numbers to its seats in Parliament as it makes a flat-out attempt to unseat the Congress at the Centre. The ruling Congress, which had in 2009 won 19 of the 25 seats in the region and also formed government in Andhra Pradesh, is expected to be punished for its decision to bifurcate it to create a Telangana state. The Seemandhra regions have been bitterly opposed to the split the state. (Over 51 Per Cent Polling Till 1 pm Amid Sporadic Incidents in Seemandhra)

In West Bengal, 81.28 % voting took place in the six crucial seats, all held by the Left Front which is struggling to keep Mamata Banerjee's Trinamool Congress from taking them away. In the fray today are some top celebrities - actors Moonmoon Sen and Sandhya Roy and popular singer Babul Supriyo, who is a BJP candidate. Nine-time MP Basudeb Acharia of the CPI(M) tries his luck one more time. (Election Commission Steps Up Security Arrangement for Jangalmahal in West Bengal)

In Bihar, 58% voters had cast their votes in seven constituencies, which had registered a turnout of 44.7% in 2009. Chief Minister Nitish Kumar faces the ignominy of being seen as out of the frame in these seats. His Janata Dal (United) had won four of the seven in 2009, but that was before he split with the BJP, a decision that is expected to boomerang. Today's Bihar contest is being fought between the BJP and Lalu Prasad's Rashtriya Janata Dal. In Saran, the seat Lalu had to vacate when he was convicted in a corruption case, his wife Rabri Devi is fighting for his honour against the BJP's Rajiv Pratap Rudy. (Eighth phase of polling: In Bihar, it's Lalu vs the BJP)
Elections were also held in the hill states of Himachal Pradesh and Uttarakhand, which witnessed an all-time record turnout of 65% and 62% today. Arvind Kejriwal's Aam Aadmi Party has fielded candidates in some of the seats in these states in an attempt to break the stranglehold of the BJP and the Congress which are largely locked in direct contests as always. Himachal Pradesh has four seats, Uttarakhand has five. (In Uttarakhand, BJP Counting on Modi Magic to Score a Big Win)

Polling also took place in two constituencies of Jammu and Kashmir - Baramulla and Ladakh. With this, elections will be completed in all seven constituencies of the state. 49.98% voters cast their votes in the final round of polling in the state
The staggered, nine-phase elections, which began on April 7, will draw to a close on May 12. Results of the huge exercise, the largest election in recent history, will be declared on May 16.