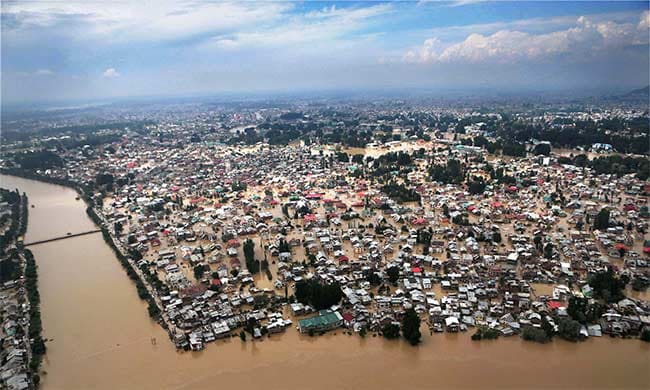 Srinagar/Jammu:
Flood water is now receding in Srinagar and other parts of Kashmir, but about six lakh people are still stranded in what Chief Minister Omar Abdullah has described as the worst floods in a century. More than 75,000 people have been rescued in a non-stop, tireless operation by the armed forces and the National Disaster Response Force (NDRF).
Here are the latest developments
Local residents in Srinagar, angry that their stranded families have not been rescued yet, attacked two rescue workers of the National Disaster Response Force (NDRF). One of the workers is seriously injured and has been flown to Chandigarh for treatment. There is bitterness that politicians and other VIPs have not visited the flooded parts of Srinagar - as most have only undertaken aerial surveys. (Here's How You Can Help)

Almost 200 people have died in the state's worst floods in 60 years. Many have been trapped in their homes or places that they took shelter in for over three days. A breakdown of communication lines caused more panic as people have been unable to contact those stranded.

Some phone lines have now been restored in Srinagar. Cabinet Secretary Ajit Seth said 2,500 mobile phone towers are down and efforts are on "overtime" to get them working. The state-run BSNL is being helped by the Army and Air Force to restore mobile services through satellite network and services are expected to be partially restored today, officials said. (SOS From Stranded People)


Outside Srinagar airport, about 5000 migrant daily wage workers from Bihar and Uttar Pradesh have been sitting in protest outside Srinagar airport. They say they have had no food to eat in three or four days and are demanding that they be put on a plane back home.

Chief Minister Omar Abdullah has described the floods as the worst in 109 years, adding, "how do you plan for something that hasn't happened in 100 yrs?". "I understand the anger and frustration but it is not true that nothing is being done. There will always be some dissatisfaction when something like this happens. I know people have lost everything, we promise to rehabilitate them. No relief and rehab camps can be perfect. We are doing all we can," he said.

On Tuesday, the Srinagar-Leh National Highway connecting Ladakh with the Kashmir Valley was reopened for traffic after remaining closed for seven days due to heavy rains. This is an important step in boosting connectivity to the region which awaits civil supplies. The Army said the J&K national highway, which links the valley to the rest of the country will take about four to five days to open again.


The Army said 10 to 15 people are being brought out in every round that a rescue boat makes into inundated areas where people are trapped in their homes and other buildings. Each boat is making 50 to 60 rounds a day. "We will move out only after rescuing everybody," Army Chief General Dalbir Singh Suhag said. The Army has also set up medical camps and said their doctors are treating 200-300 people every day.

The Home Ministry has set up a control room in Srinagar to monitor flood relief operations and additional teams of the NDRF have been sent to the region. The NDRF chief told NDTV on Wednesday that the number of rescue teams have been increased to 22 from 19. He added that 14,965 people have been rescued by NDRF teams.


The situation in the Jammu region has stabilised and the focus is now on providing relief material on the ground, officials said. 68 relief camps have been set up in Jammu.

The prime ministers of India and Pakistan have offered to help each other in efforts to alleviate the flood havoc in Kashmir. More than 200 people have been killed in floods and rain-related incidents in Pakistan.