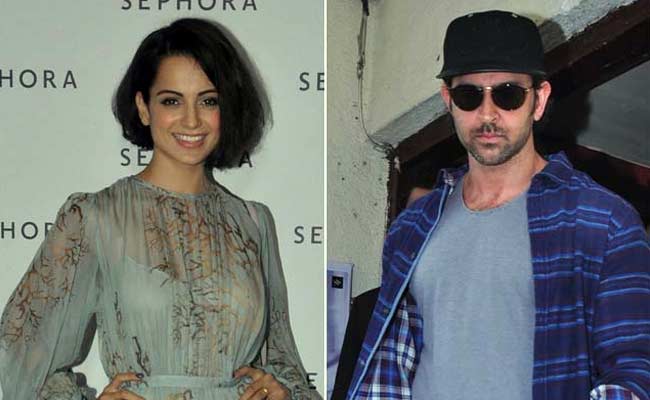 Highlights
Kangana Ranaut asked to appear at police station with laptop, phones
Hrithik Roshan says e-mails to Kangana were from the imposter, not him
She says he's lying and had created a new account to communicate with her
Mumbai:
A feud between actors Kangana Ranaut and Hrithik Roshan that started with different versions of whether they dated, has leapfrogged from tabloid fodder to swapped legal notices and now, a cyber-crime case. The Mumbai police has asked to see Ms Ranaut at a police station within a week.
Here are latest developments:
Ms Ranaut, who won her third national film award earlier this week, has been asked by the police "not to tamper with and bring along digital evidence" on her phone and laptop.

Here's why. Mr Roshan, 42, has filed a police case stating that someone is posing as him online, and communicated with "fans".

Mr Roshan says that he has never been in electronic touch with Ms Ranaut, 29, and that emails that she says she received from him were actually sent from the fake account.

Her lawyers say there is no fake account. They claim that because Mr Roshan was going through a divorce (with Sussanne Khan), he created an additional email account which he used to communicate with her.

They also say that Mr Roshan hacked into Ms Ranaut's account and deleted the emails he sent to her in 2014.

Mr Roshan had filed a police case, asking the Mumbai police to identify and punish his online impersonator. He says he chose "a dignified silence" in not mentioning Ms Ranaut's name because he wanted to protect her privacy.

Now, however, he has listed her in the complaint or FIR which has resulted in the police seeking to question her as a witness.

Ms Ranaut's lawyers say a woman cannot be summoned to a police station - a point they have made in writing to the cops.

Ms Ranaut and Mr Roshan allegedly dated while co-starring in Krrish 3. In an interview in January, she referred to "silly exes". Mr Roshan responded with biting tweets and with a legal notice that accused her of trying to max out on publicity by implying she dated him and of harassment with nearly 1,400 emails. Mr Roshan demanded a public apology.

Her legal notice, in response, said she is not a "smitten" teen, has never named him as an ex, and that Mr Roshan did not block her on email, which he should have done, if he felt she was stalking him online.