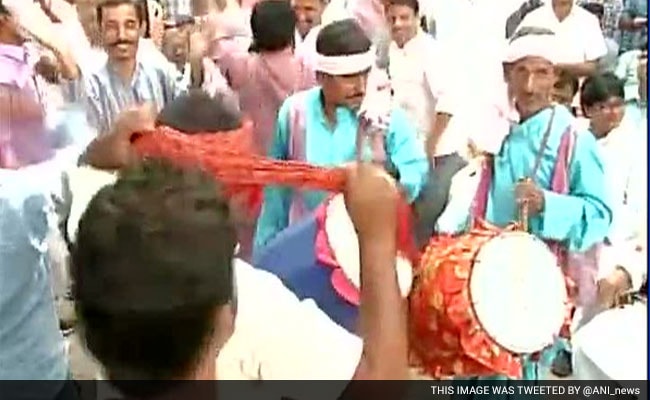 New Delhi: The 'Grand Alliance' led by Bihar Chief Minister Nitish Kumar is set to record a big victory in Bihar. It is now leading in 157 seats, with the BJP's alliance trailing badly at 77.
Here are the latest developments in this story:
"Had a telephone conversation with Shri @nitishkumar & congratulated him on the victory." tweeted Prime Minister Narendra Modi, who was the face of the BJP's campaign in Bihar. (Live: Bihar Results 2015)
Nitish Kumar's chief ally Lalu Yadav has scripted a spectacular comeback after multiple setbacks in the last few elections. His RJD is leading in 74 seats and is set to be the single largest party in the Bihar assembly. (Bihar election Results: Full coverage)
Sharad Yadav of the Janata Dal United has made clear that, "Even if Nitish wins fewer seats than Lalu, he will still be Chief Minister." (Bihar Election Results: Constituencies)
Facing a second defeat this year after Delhi, the BJP has rushed to protect PM Modi from blame. The PM led a no-holds barred campaign for the party in Bihar. (Bihar Election Results: Personalities)
"This is a state election and not a referendum on central leadership or government," said senior BJP leader and union minister Prakash Javadekar. (Bihar election Results: Party Summary)
But BJP ally Shiv Sena has said the PM must shoulder blame for the defeat. Sena chief Uddhav Thackeray has congratulated Nitish Kumar and the party's Sanjay Raut said, "Nitish is the new hero of politics."
And Sharad Yadav said, "The BJP made this a national election. They dragged in the cow, beef and the chief of the world's biggest party said if we win, crackers will go off in Pakistan," referring to a controversial remark of BJP chief Amit Shah.
Chief ministers Arvind Kejriwal and Mamata Banerjee have congratulated Mr Kumar on Twitter. Ms Banerjee has called today's result the "Victory of tolerance, defeat of intolerance."
For the Congress, the third ally in the Grand Alliance, the Bihar election is the first good news in more than a year. After a washout in the national election last year, it also posted dismal performances in several state elections.
At about 10 am, two hours into counting today, there was confusion over who was leading with different TV channels making discrepant forecasts. NDTV and some other channels showed the BJP ahead. Others, including local media in Bihar, showed the Grand Alliance ahead.