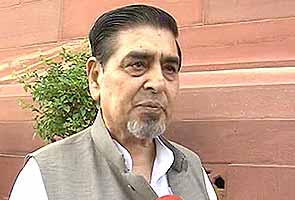 New Delhi:
It is a crucial day for former Congress MP Jagdish Tytler as a Delhi court will decide whether to re-open a 1984 riots case against him. Mr Tytler is accused of instigating a mob that led to the murder of three men who had taken shelter at a gurudwara in the capital on November 1, 1984.
Here are 10 big facts on this story:
The Central Bureau of Investigation (CBI) had given a clean chit to Mr Tytler in 2007 and in 2009 claiming there was no evidence against him.

Lakhwinder Kaur, the widow of one of the men killed, had challenged the closure report filed by the CBI in 2009. She maintains that the investigating agency has not recorded the testimonies of two key eyewitnesses who have since the riots moved to the United States.

During the arguments on April 4, the CBI prosecutor had sought the dismissal of the plea filed by the victim saying the probe has made it clear that Mr Tytler was not present on November 1, 1984 at Gurudwara Pulbangash in North Delhi where three people were killed during the riots.

The prosecutor said at the time of the incident, Mr Tytler was at Teen Murti Bhawan, the residence of the then late Prime Minister Indira Gandhi.

Mr Tytler's alleged role in the case relating to killing of three persons in the 1984 riots -- Badal Singh, Thakur Singh and Gurcharan Singh -- near the Gurudwara Pulbangash was re-investigated by the CBI after a court had in December 2007 refused to accept its closure report.

Families of the Sikh victims are expected to be at the court at the time of the judgement.

Apart from Mr Tytler, another former Congress MP Sajjan Kumar too is facing trial for allegedly inciting a mob to kill Sikhs in the Delhi cantonment area. The CBI has concluded its arguments against him.

While more than 8,000 Sikhs were killed across the country, 3,000 were massacred in Delhi.

Only 30 people in 12 murder cases have been convicted so far.

Ten different commissions and committees have looked into the 1984 riots in last three decades. Seventy two police officers were identified for connivance and gross negligence; 30 of them were recommended to be sacked, but no action was taken.