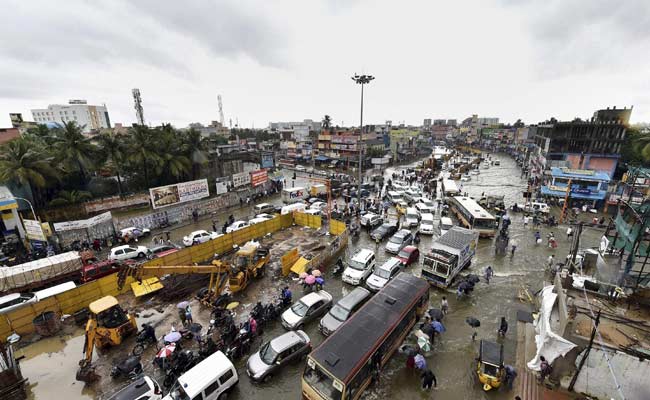 Chennai: Chennai remains cut off from the rest of the state, with road, rail and air traffic crippled because of flooding in much of the city after record rain.
Here are the 10 latest developments in this story:
The Navy's amphibious carrier, INS Airavat, has been moved to Chennai with medical equipment, medicines and doctors. The ship is also taking 20 divers and swimmers and 15 boats.
There has been no rain since last night, but 35 lakes are reportedly flowing at dangerous levels, raising fears of more flooding.
The water level has been rising steadily in parts of the city. Chennai received 49 cm of rain over the last 24 hours. Chembarambakkam, where the reservoir released about 25,000 cusecs of water into Adyar river, received 47 cm of rains. The met office has said the next 48 hours will be crucial and the rains will continue for a week.
The Saidapet bridge over the Adyar river, which runs through the city, was closed to traffic as water spilled onto the road.
The Chennai International airport will remain closed till December 6. The Rajali naval air station at Arakkonam, 70 km west of Chennai, will now function as a makeshift airport.
The commissioner of Chennai corporation, Vikram Kapoor, said the main thoroughfares of the city has been cleared but the river is still at the danger level. The surplus water is coming into Chennai. "None of the drains can work with such heavy rain. If this kind of rain happens again we are in for a tough time," he said.
More than 2000 people have been rescued from the flood-hit city by the Army, Navy, Air Force and the National Disaster Response Force.
Schools, colleges and offices have been forced to close and exams have been postponed. The campuses of IIT Madras, Anna University and a few others have been flooded.
The city's IT hub has been shut down too, as the offices became waterlogged. Telecom companies including BSNL, Airtel, Vodafone, RCom and Aircel have offered free talktime to their customers. Airtel, whose services have been impacted in certain areas, will offer talk time credit and free mobile data.
The state has reported around 200 deaths since the floods started in the middle of last month.
The Chennai Corporation has announced Emergency Contact Numbers for all the regional zones in the city. People can contact the following numbers in case of any emergency due to the floods.

Emergency Toll Free Number: 1910, State Emergency: 1070, District Emergency: 1077, Electricity:1912, Fire & Rescue: 101, Ambulance: 108, Tree fall, waterlogging - 1913, Sewage overflow - 45674567, 22200335

Helpline Numbers: Tiruvottiyur : 09445190001, Manali: 09445190002; Madhavaram: 9445190003, Ambattur: 9445190007; Tondiarpet: 9445190004, Royapuram: 9445190005; Annanagar: 9445190008, Teynampet: 9445190009, Alandur: 9445190012, Adyar: 9445190013,Perungudi: 9445190014

Flood Control Room: 28593990, 044-28410577,9445869843/47