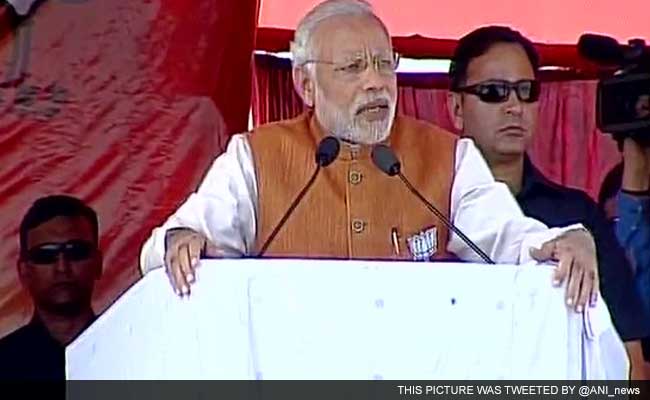 Patna: Prime Minister Narendra Modi today launched a scathing attack on the Congress, saying it had no business talking about tolerance at a time when the country is observing the 31st anniversary of the 1984 anti-Sikh riots. About 3,000 people were killed in the riots by mobs allegedly led by Congress leaders.
Here are the latest developments:
"Today on November 2, Sikhs were massacred... There were serious allegations against Congress leaders... and on the same November 2, Congress is giving a lecture on tolerance... doob maro (drown in shame)," PM Modi said at a rally in Purnea in Bihar.
The PM's remarks come ahead of Congress chief Sonia Gandhi's meeting today with President Pranab Mukherjee where she is likely to raise concerns over 'rising intolerance' in the country that has seen the government come under fierce attack from academicians and activists.
The Prime Minister, who is fronting the Bharatiya Janata Party campaign in Bihar, addressed three more rallies today ahead of the last phase of polling which has seen a bitter campaign with rival sides using strong words to attack each other.
"After bomb blasts in Pune, Mumbai, a new term had come up called "Darbhanga module". A courageous woman police officer, a Dalit, tried to investigate and find such people. The leads had led her to the homes of some associates of leaders of Mahaswaarthbandhan (opportunistic coalition). These people did not take any action against the leaders but forced the officer to leave. They are people who give shelter to terrorists. Do you want such people to sit in Patna?" PM Modi said at a rally in Darbhanga.
Congress Vice President Rahul Gandhi and Bihar Chief Minister Nitish Kumar too addressed multiple rallies. "Why isn't he (PM Modi) talking about achche din now? Dal is Rs 200 today, has become a luxury. People want to educate their children. Modi promised employment, have you got your job? Modi has annoyed everyone with his Make in India, where are the jobs?" Rahul Gandhi said at a rally in Araria.
Votes have already been cast for 191 of 243 seats in the Bihar assembly in the first four phases in what is seen as a very close contest. The fourth phase of polling for 55 seats saw almost 58 per cent of the electorate vote on Sunday. The fifth and last phase will be held on Thursday, November 5, for 52 seats in what is known as the Seemanchaal region. With a substantial minority vote, the anti-BJP Grand Allinace led by Nitish Kumar is seen as favourites in this region.
The Election Commission has been forced to step in and has issued notices to BJP President Amit Shah, Congress Vice President Rahul Gandhi and RJD chief Lalu Prasad Yadav over controversial remarks in their campaign speeches.
Rahul Gandhi has to explain by November 4 his attack on the BJP saying, "wherever there is an election, their army goes and they make Hindus fight the Muslims".
His ally Lalu Yadav has received an Election Commission notice for the names he has called Amit Shah. Lalu had said,"A narbhakshi (cannibal) and exiled should not teach good conduct to Bihar. First, he should tell people about his own misdeeds and stringent sections levelled against him."
The Election Commission has also issued a notice to Mr Shah for saying last week, "Friends, remember if by mistake BJP loses here and Nitish-Lalu win, the results will be announced in Patna but firecrackers will go off in Pakistan." The poll panel said the remarks could disturb communal harmony.