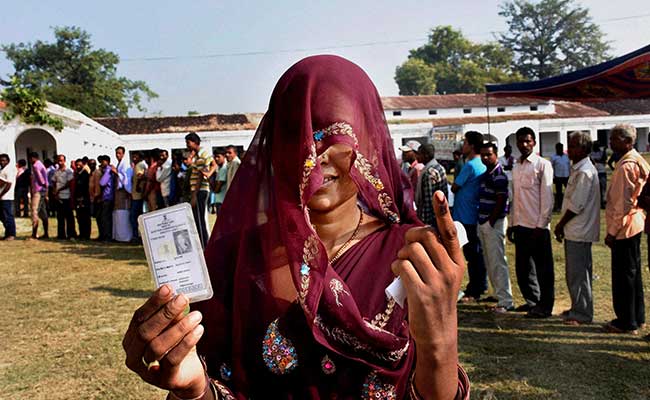 Patna: Over 57 per cent of the electorate voted in 55 constituencies in Bihar where polling took place in the fourth phase of assembly elections today. Stakes are high for the Bharatiya Janata Party (BJP) in this round as in the last elections in 2010, when it was in alliance with Nitish Kumar's Janata Dal (United), it had bagged majority of the seats where polling was held today.
Here are the latest developments in this story:
Over 57.59 percent recorded in the fourth phase of Bihar elections. 55 constituencies spread across seven districts of Muzaffarpur, East Champaran, West Champaran, Sitamarhi, Sheohar, Gopalganj and Siwan voted in the penultimate phase.
In 2010, the BJP had won 26 out of the 55 seats, the JD(U) had emerged victorious in 24, Lalu Prasad's Rashtriya Janata Dal (RJD) had won two seats and Independents three.
But the scenario has changed this time. From the 'grand alliance' camp, the RJD has now fielded candidates in 26 constituencies followed by the JD(U) in 21 and the Congress in eight.
From the NDA, the BJP, now taking on the JD(U), has fielded its nominees in 42 seats, the Lok Janshakti Party (LJP) in five and the Hindustanti Awam Morcha and Rashtriya Lok Samata Party (RLSP) in four seats each.
As many as 1,46,93,294 voters will decide the fate of 776 candidates in fray in the 55 constituencies.
Key candidates whose fate will be decided in this phase are senior minister Ramai Ram (Bochaha), Ranju Geeta (Bajpatti) and Manoj Kushwaha (Kudni). Ramai Ram has won the seat nine times since 1972. He is being challenged by Anil Sadhu, son-in-law of LJP chief Ramvilas Paswan.
RJD president Lalu Prasad's native village Phulwaria in Gopalganj district which is part of Hathwa constituency also voted in this round. Sitting MLA Ram Sewak Singh has been fielded by the JD(U) from the seat. Former minister and Hindustani Awam Morcha leader Mahachandra Prasad Singh is fighting against him on the seat.
On the basis of assessment of security situation, polling was held from 7 am to 5 pm in 43 constituencies, while it has been be shortened by an hour in eight seats. Voting ended at 3 pm in four seats. 1163 companies of Central Paramilitary Force and state police, each comprising 100 personnel, were posted to ensure free and fair elections.
Voting is already over in 186 seats in the first four phases of the election. The last phase of polling is scheduled to take place on November 5 on the remaining 57 seats. Counting of votes is on November 8.
The fourth phase saw high voltage campaigning with both the BJP-led NDA and the JD(U)-RJD-Congress alliance accusing each other of trying to polarise voters on communal lines.