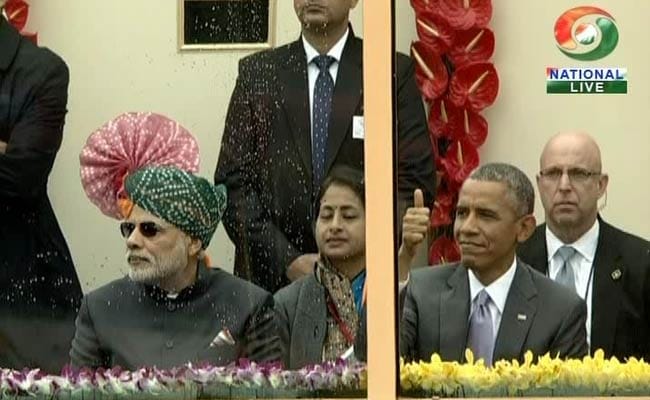 New Delhi:
The motorcycle stunt riders from the Border Security Force, called India's Daredevils got a thumbs up from chief guest US president Barack Obama at the Republic Day parade this morning. His wife Michelle Obama applauded for the bikers and also when the armed forces put up a spectacular air show to end the show.
Here are the latest developments in this story
By the side of the chief guest sat Prime Minister Narendra Modi in a multicoloured bandhej safa. Before receiving President Obama and his wife Michelle at Rajpath, the PM paid homage to India's martyrs at the Amar Jawan Jyoti at India Gate.

A loud cheer went up as the US president alighted in the Delhi drizzle from his special car, called the beast. A poster in the crowd read "We love Obama." He is the first US president to be chief guest at India's Republic Day celebrations.

Holding up umbrellas in the rain, President Obama and Michelle Obama watched the display of India's military might and cultural diversity along with PM Modi and President Pranab Mukherjee from a salute dais erected behind a special bullet-proof enclosure, amid unprecedented security.

Women's power or Nari Shakti is the theme of the 66th Republic Day celebrations and for the first time all-women contingents from the three services marched down Rajpath.

Four helicopters with the tricolour and the flags of the three services flew over a wet Rajpath as the two-hour parade began. Tanks and missiles rolled by and columns of soldiers marching in perfect precision followed; and then there were colourful floats and performances by school children.

"Impressive display by#India's all-women military contingent in the Republic Day parade," tweeted NSCPress, run by President Obama's National Security Council. "#India's amazing diversity is on full display at today's Republic Day parade," tweeted America's National Security Advisor Susan Rice.

There was unprecedented security. 50,000 security personnel, including 500 US Secret Service Agents, were deployed. The Delhi Police was alerted against an alleged Maoist plan to stage protests.

In the afternoon, the US President is expected to meet Congress leaders Sonia Gandhi, Rahul Gandhi and former prime minister Manmohan Singh, with whom he is said to share a special rapport. He will later attend President Pranab Mukherjee's "At-home."

At 5.30 pm, the US President will attend the India-US CEO Forum meeting at the hotel Taj Palace. Another meeting with business delegations from the two countries -- India-US Business Summit - will take place later in the evening.

Mr Obama, the first US president to be chief guest at the Republic Day celebrations, arrived with his wife Michelle on a three-day visit yesterday. PM Modi broke protocol and received President Obama at the airport, greeting him with a hug.
Post a comment